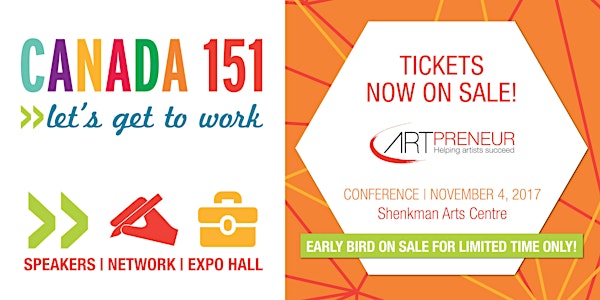 ARTPRENEUR Ottawa 2017
When and where
Location
Shenkman Arts Centre des arts Shenkman 245 Centrum Boulevard Ottawa, ON K1E 0A1 Canada
Description
ARTPRENEUR Ottawa 2017 Conference
Canada 151 - Let's Get to Work
Saturday, November 4, 2017
Shenkman Arts Centre, Ottawa, ON
Get inspired by the artists and arts groups who work and thrive in our Nation's Capital. The theme for the fifth annual ARTPRENEUR conference is Canada 151: Let's Get to Work. We'll bring together artists, business leaders and more to explore what's next after Canada's sesquicentennial year, and how we can develop momentum and keep the energy going for local artists. We'll also reflect on the ways in which 2017 was a disruptive year, and how we can use disruption as a positive force to build new models and practices.
The fifth annual ARTPRENEUR Ottawa 2017 Conference will be held at the state-of- the-art Shenkman Arts Centre, in Ottawa, Ontario. The multi-disciplinary arts centre provides large conference spaces for a vendor expo, breakout sessions and capacity for 150 at presentations in the Richcraft Theatre. The program features inspirational keynote speakers, real-world experience workshops, relevant product demonstrations and numerous networking opportunities.
The ARTPRENEUR Ottawa Conference is a partnership between AOE Arts Council, Ottawa School of Art, the Shenkman Arts Centre and Wallack's Art Supplies.
**Group discount of 20% off the early bird rate is available for groups of 8 or more. Please email info@artpreneurottawa.com or call Cassandra at 613-580-2767 for more information.**

ARTPRENEUR Ottawa 2017
Morning Keynote Address: Alexandra Badzak Director and CEO, Ottawa Art Gallery, in conversation with The Latest Artists and Anna Williams.
Morning Presentations
A. Picking the Perfect Platform (Entrepreneurship Skill – Basic: Social/Digital Marketing)
Sponsored by: Alterna Savings

Stand out in the arts community! This workshop will help you determine who your audience is and how you can target and engage in web platforms to profile your work, interests and expertise. Learn how to leverage your brand, events and projects to become visible and create opportunities to grow.
Speaker: Christina Devine (Kool Krys, House of PainT)
B. Building Relationships Through Content (Entrepreneurship Skill – Intermediate: Social/Digital Marketing)
How to build authentic relationships through social media and good digital content.
Speaker: Toni van Eeden
Afternoon 1 Presentations
D. Visual Art: The Future of Gallery Sales
Are you wondering about the current state of the commercial gallery and art sales in Ottawa and across Canada? Are you curious where your work might fit in, or whether this is the route you should take? This panel of curators, gallery owners and artists will help you navigate your way through the ever-changing landscape of "The Gallery".
Speakers: Don Monet (Cube Gallery) and Carrie Colton (Studio Sixty Six)
F. Music: From Basement to Stage: Developing Your Performance as an Emerging Artist
Presented by OMIC
In this panel discussion, Carolyn Coté (Arms of the Girl) and Scott May (Bar Robo) draw from their experiences as artist and venue owner respectively, to help provide tips for positioning yourself as a live performer early in your career. From booking your first shows to building community, these pros help identify opportunities to share your talents in conventional and unconventional ways. The panel is moderated by Colin Mills (Coordinator, Music Industry Arts at Algonquin College).
Speakers: Carolyn Coté, Scott May. Moderated by Colin Mills.
G. Makers: Makers Gonna Sell

Presented by MakerSpaceNorth
Maker Space North and Freewheeling Craft will talk about getting a shop online, and lead hands-on exercises.
Speakers: Sheri Chiprout, (Makerspace North) and Amanda Cockburn (Freewheeling Craft).


Afternoon 2 Presentations
H. Business of the Arts Basics (Entrepreneurship Skill – Basic)
This session helps to prepare you to get your work out there. The overview includes information on what goes into your C.V., bio and artist statement.
Speaker: Remco Volmer (Artengine)
I. Promo Video (Entrepreneurship Skill – Intermediate)
Look at ME! A session about video for social media. Get out there and get heard but also be seen. Pull back the curtain. Let 'em have a peek. Explore how artists can use video to build a more engaged audience and gain more sales.
Speakers: Shawn MacDonell (Creativision)

J. HQ Ottawa – Living in Ottawa and Working Elsewhere (Roundtable)
How can artists be based in Ottawa, and still bring their work to the wider world? This roundtable explores how artists in different disciplines manage national and international work, like finding contracts, auditions and exhibitions.Each presenter speaks for an allotted time period followed by roundtable discussion groups.
Speakers: Erin Benjamin (Music Canada Live), Adrian Göllner

Networking Cocktail