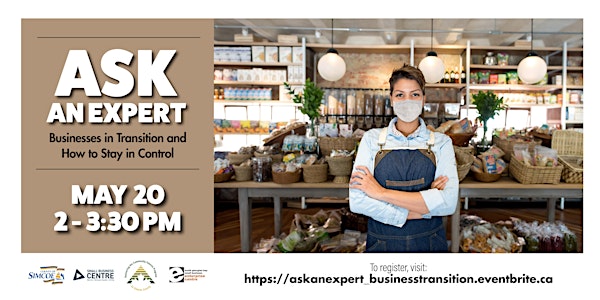 Ask an Expert: Businesses in Transition and How to Stay in Control
Join this free virtual webinar on May 20th to learn how business owners and entrepreneurs can stay in control during the COVID-19 pandemic.
About this event
Many business owners who had carefully developed business plans and models over the lifespan of their operations have had to reconsider their best-laid plans and adapt quickly. Financial forecasts that seemed realistic in 2019 may be less viable and owners may be considering other options.
Local experts will provide information regarding:
• Staying in control after negative financial growth – Insolvency Trustees experts Brenda Wood and Robyn White
• Transitioning – Experts Lawyer Tim Timpano and Accountant David Holmes
This session is part of the 'Ask an Expert' series presented in partnership with the Small Business Centre of Barrie, Simcoe County and Orillia, South Georgian Bay Small Business Enterprise Centre, Orillia Area Community Development Corporation, Nottawasaga Futures, North Simcoe Community Futures Development Corporation and the Centre for Business and Economic Development. For more information and to view recordings of previous sessions visit: www.simcoe.ca/askanexpert.