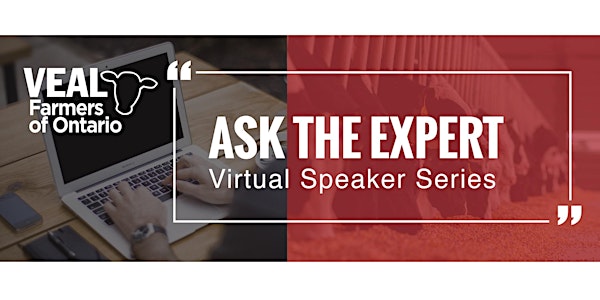 Ask the Expert Virtual Speaker Series Session 3
Please join VFO, Amanda Kerr and Dr. Kristen Edwards for the final webinar in the 2022 Ask the Expert Virtual Speaker Series.
By Veal Farmers of Ontario
Date and time
Wed, Mar 30, 2022 9:00 AM - 10:30 AM PDT
About this event
This is the final session in a series of three webinars designed to connect producers with leading experts on young calf, veal cattle and business management.
Considering alternative milk replacer options to save on feed costs
Amanda Kerr, Grober Nutrition Inc.
The gold standard of a milk replacer has long since believed to be an all dairy protein base, with no added plant components, either protein or carbohydrate. However, plant protein sources are generally less expensive than dairy protein ingredients. When first introduced for use in milk replacers, alternative proteins, namely soy flours, had very poor results, and thus, the use of plant proteins in milk replacers tainted. Consider a set of scales – on one end of the balance is calf performance, and on the other end, feed cost. With good science and proper formulation, plant proteins can be included into a milk replacer to strike that perfect balance of calf performance and feed cost savings.
Calf insights: How to collect, analyze, and take action on calf data to maximize gains, reduce morbidity, and optimize lifetime output
Dr. Kristen Edwards, Tavistock Veterinarians
Dr. Kristen Edwards developed a calf-focused herd health program, which has now had over 1900 calves enrolled. This presentation aims to provide a review of what the program entails, discuss data trends, and provide key takeaways for making data-driven decisions to improve calf health, growth, and lifetime production on your farm.
Learn more about the series and speakers here.
About the organizer
The Veal Farmers of Ontario (VFO) is a farmer-run organization that represents the interests of Ontario's veal farmers. We work on a variety of industry projects and address the issues directly impacting dairy calf and veal producers, to create a proactive and engaged dairy calf and veal industry in Ontario. The VFO is open, transparent and committed to excellence.