Event Information
Refund policy
Refunds up to 30 days before event
Eventbrite's fee is nonrefundable.
2021 ASQ Canada & Greenland Region: National Bilingual Quality conference / Conférence nationale bilingue sur la qualité
About this event
The ASQ Canada and Greenland Region is thrilled to present the 2021 ASQ Canada Quality Conference, fully virtual, bilingual, and interactive, on the 4th and 5th October 2021. It is being organised and proudly hosted by the ASQ Montreal Section.
This year the theme is "Risk and Resilience". Our objective is to provide you knowledge and competencies that will lead to quantifying risk in a business sense (dollars and cents) and gain a better understanding on how to apply tools that help assess quantitative risks and turn them into opportunities to make your organisations more resilient.
We aim to provide a great event for quality practitioners to get together, share best practices, learn from each other, and help our industries and organisations be better prepared for what the future has in store for us. We will be offering networking sessions, conferences and break out rooms or workshops, as well as two keynote speakers. All this over 2 days, with two different streams of concurrent sessions each day. English and French language sessions with live interpreter services will be available in the other languages.
Visit www.asqcanadaconference.com to see the schedule and learn about the speakers. Join us on October 4 and 5, 2021, get your tickets here and benefit from early bird pricing until August 20th, 2021. Regular tickets will be on sale until September 30th, 2021.
Certificates for ASQ recertification units (RU) will be delivered.
______________________________________________
La région ASQ Canada et Groenland est ravie de présenter la conférence ASQ Canada Quality 2021, entièrement virtuelle, bilingue et interactive, les 4 et 5 octobre 2021. Elle est organisée et fièrement accueillie par la section de Montréal de l'ASQ.
Cette année, le thème est "Risque et résilience". Notre objectif est de vous fournir des connaissances et des compétences qui vous permettront de quantifier le risque dans un sens commercial (dollars et cents) et de mieux comprendre comment appliquer les outils qui aident à évaluer les risques quantitatifs et à les transformer en opportunités pour rendre vos organisations plus résilientes.
Notre objectif est d'offrir un grand événement aux praticiens de la qualité afin qu'ils puissent se réunir, partager les meilleures pratiques, apprendre les uns des autres et aider nos industries et organisations à être mieux préparées à ce que l'avenir nous réserve. Nous proposerons des sessions de réseautage, des conférences et des salles de repos ou d'ateliers, ainsi que deux conférenciers principaux. Tout cela sur deux jours, avec deux flux différents de sessions simultanées chaque jour. Des sessions en anglais et en français avec des services d'interprétation en direct seront disponibles dans les autres langues.
Consultez www.asqcanadaconference.com pour voir le programme et en savoir plus sur les conférenciers. Rejoignez-nous les 4 et 5 octobre 2021, achetez vos billets ici et bénéficiez des tarifs préférentiels jusqu'au 20 août 2021. Les billets réguliers seront en vente jusqu'au 30 septembre 2021.
Des certificats pour les unités de recertification ASQ (RU) seront également émis.
Proudly hosted by / Fièrement présentée par: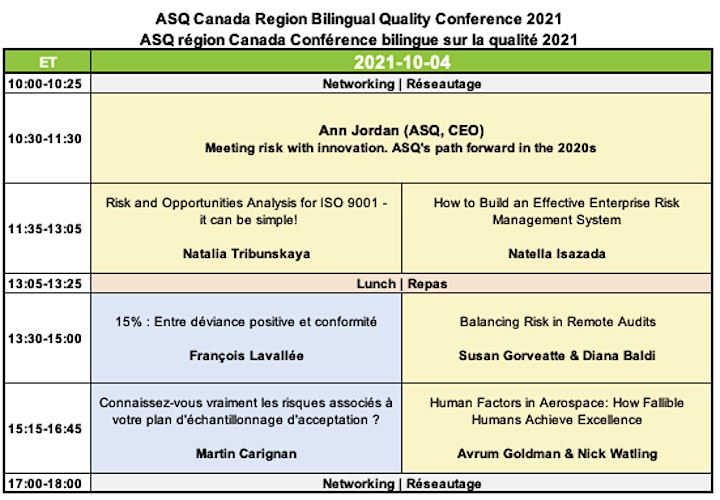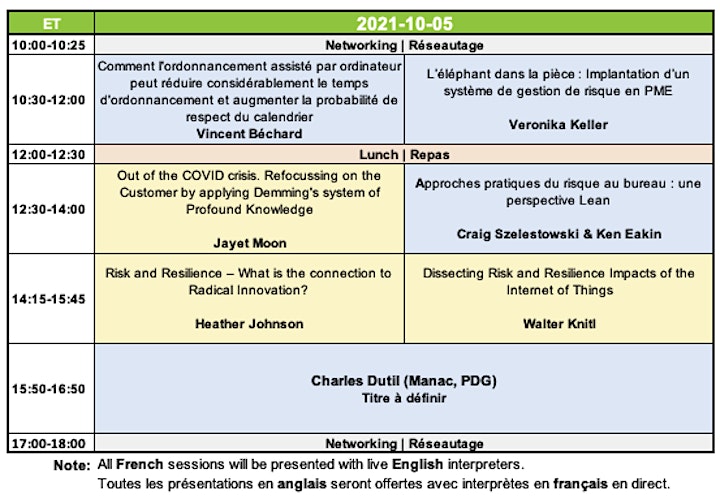 Take a look at our speakers! They will offer a wide range of topics to help you with risk management and resiliency!
Venez voir nos conférenciers! Ils offriront un grand éventail de sujets pour vous aider dans la gestion des risques et la résilience!
Date and time
Location
Refund policy
Refunds up to 30 days before event
Eventbrite's fee is nonrefundable.
Organizer of ASQ Canada Quality Conference 2021/ASQ Canada Conférence Qualité 2021
Established in Montreal since 1950, ASQ Montreal is part of the American Society for Quality and our mission is to promote and enhance the quality profession by providing support to our Section membership, offering information, educational programs and events, and promoting the awareness and value of quality in the community.
Établie à Montréal depuis 1950, l'ASQ Montréal fait partie de l'American Society for Quality et notre mission est de promouvoir et améliorer la profession de la qualité en appuyant les membres de notre section, en offrant de l'information, des programmes éducatifs et des événements, tout en sensibilisant et en faisant la promotion de la valeur de la qualité dans la communauté.