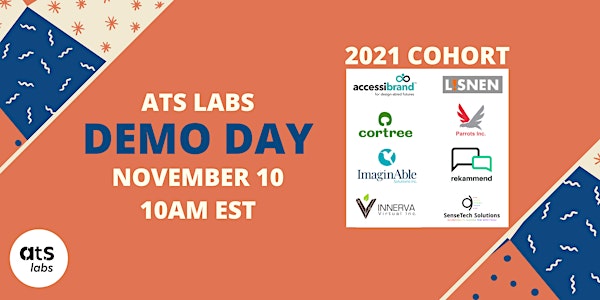 ATS Labs Demo Day 2021
Join us as 8 accessibility startups from ATS Labs' 2021 cohort pitch for $7,500 in prize money.
About this event
Instructions for joining the event:
The event will be hosted over Zoom, and unfortunately Zoom requires everyone to register through Zoom as well. I know, I know... We hate this too. We tried hard to get around it with no luck.
Click here to go to the event page, where Zoom will ask you to Register.
Click on Register and login to Zoom using your usual Zoom account. You will need a Zoom account to attend the event.
Go through the Registration process by clicking Continue (don't worry, it's still free)
Once you have registered, you can click on Join Lobby or this link to join the event
From there, you can join the Main Event session
That's all! 5 steps to login, it could be worse... If you face any difficulties, please reach out to marketing@accesstosuccess.ca and we will be happy to help.
-------------------------------------------------------------------
ATS Labs is Canada's first accelerator for accessibility, mental health and aging tech startups. We concluded our first 3-month cohort in October, where the founders participated in 45 sessions hosted by 50 speakers from 7 countries.
Now, join us at our 2021 Demo Day as the 8 graduating startups pitch to a panel of judges for $7,500 in prizes. The free virtual event will also include keynotes, panel discussions and a virtual networking session where you can meet our graduating startups.
The event will be digitally accessible and automatic live captioning will be provided. If we can make the event more accessible for you in any way, please reach out to us at marketing@accesstosuccess.ca.
Agenda:
10:00 am - 10:10 am EST: Introduction and opening remarks
10:10 am - 10:30 am EST: Conversation with Prateek Madhav, CEO, AssisTech Foundation
10:30 am - 11:30 am EST: Startup Pitches
11:30 am - 11:40 am EST: Closing remarks and winner announcements
11:40 am - 12:00 pm EST: Virtual networking
Participating Startups: