BetaKit has partnered with TradeRev on a new event series investigating the future of Canada's AutoTech industry.
About this event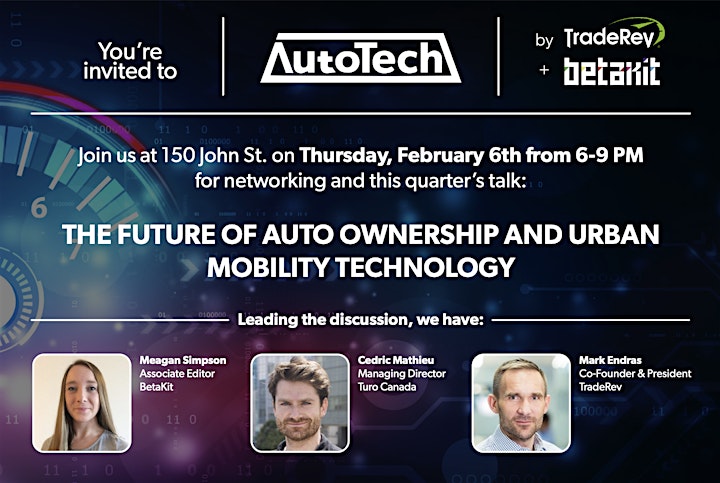 Event Schedule
6:00-6:30 pm: Doors Open & Networking (food & drinks served)
6:30-7:30 pm: AutoTech Panel
7:30-9:00 pm: Networking
Panel: The Future of Auto Ownership and Urban Mobility Technology
Meagan Simpson, Associate Editor, BetaKit
Meagan is the Associate Editor for BetaKit. A tech writer who is super proud to showcase the Canadian tech scene, Meagan graduated from Carleton University's Journalism program. Previously, she worked at IT World Canada, and has freelanced as a political reporter on Parliament Hill, a sports reporter in Ottawa, and a number of smaller community publications.
Mark Endras, Co-Founder and President, TradeRev
Mark Endras is President of TradeRev, the start-up he co-founded that facilitates real-time, live-bidding dealer-to-dealer vehicle auctions via mobile app and desktop. In this role, Mark focuses on diversifying TradeRev's product and service offerings while accelerating its growth across North America and around the globe. As co-founder of TradeRev, Mark also leads the company's efforts to enhance the in-app experience and best-in-class product offerings.
Prior to his current role as President, Endras served in other prominent leadership positions at TradeRev including Chief Technology Officer and CEO — helping to build the technology into one of the largest automotive auction companies in the world.
In 2009, after gaining extensive knowledge and experience in automotive retail, Mark noticed a critical gap in the industry and seized the opportunity to fill it. Combining two of his life's passions — cars and technology — Mark, along with co-founders Wade Chia, Jae Pak and James Tani, set out to create the software to close this gap, and in 2011, TradeRev was born. TradeRev was acquired by KAR in 2017.
Endras began his career at a startup software firm in 1999 while working toward his Bachelor of Science degree in Human Biology and Computer Science at the University of Toronto. Coming from a family in the automotive business, he received his diploma in automotive marketing from Northwood University. After working as a car salesman for a Toronto based dealership, he then worked his way up in the family business to eventually own 10 dealerships under the Endras Automotive Group.
Cedric Mathieu, VP & Head of Turo Canada
Cedric Mathieu is the Managing Director at Turo, Canada—the peer-to-peer car-sharing platform with nearly 900k members across Canada, and over 10 million members globally. He joined Turo in 2014 in San Francisco where he led the finance team for two years before moving to Canada to spearhead Turo's first international expansion.
Since launching Turo in Canada in 2016, Cedric has been on a mission to reinvent the way Canadians think about their cars, and bring peer-to-peer car sharing to Canadians from coast-to-coast. Under Cedric's leadership, Turo has become the largest car-sharing network in Canada.
He was previously a co-founder at WeSawIt, a tech startup providing a fan-engagement platform to the live entertainment industry. Prior to WeSawIt, Cedric advised international brands and retailers on e-commerce strategies at Javelin Group, a subsidiary of Accenture Strategy. A native of France, Cedric holds an MS in Management from HEC Paris, and an MS in Entrepreneurship from RSM Erasmus University in Rotterdam.