Description
July 26, join the Pelling Lab in celebrating ten years of biohacking, creation, street-level science and unapologetic curiosity!
The first ten years of the Lab have been pretty exciting. Since its inception, our team has invented new biomedical devices, grown ears from apples, created glowing skin for LEGO minifigures, shared our story globally and explored our wildest curiosities everywhere in between. We've also sprouted four spin-out companies - Spiderwort, Incuvers, pHacktory and Pelling Creative - to apply our research and bring science to everyone. Now it's time to celebrate!
Get to know Andrew, Pelling Lab members and alumni, our supporters and how the lab works - and most importantly, how we party. Smile for the talented Josh Hotz while indulging in liquid nitrogen ice-cream, 3D marshmallow body parts, finger foods and drinks! There will be a cash bar and your ticket includes one free drink (alcoholic or non-alcoholic).
There will be some special guests, fun speeches and interactive demos on site. Dr. Mona Nemer, Canada's Chief Science Advisor will speak, and more speakers will be announced over the next few weeks!
150 Elgin is serviced by routes 5 and 14, and is a short walk from Mackenzie King Station. Street parking is available.
The site is fully accessible for mobility devices. Please let us know if you have any accessibility concerns and we would be happy to help.
BIOBash is being generously supported by our friends at Shopify, IBM, the Canada Science and Technology Museum, Telfer Executive MBA and RBC.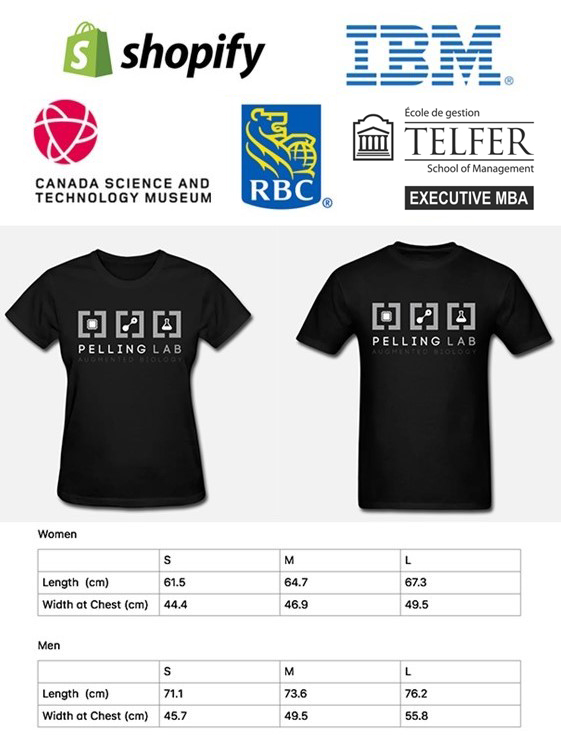 ---
Ce 26 juillet, joignez le Labo Pelling pour célébrer 10 ans de «biohacking», de création et de curiosité sans limite!
Les premières dix années du Labo Pelling ce sont avérées des plus excitantes. Depuis sa fondation, notre équipe a fabriqué des oreilles à partir de pommes, a développé une peau lumineuse pour des figurines LEGO, a partagé son histoire avec le monde entier et a exploré les idées les plus farfelues. Nos travaux dans notre laboratoire ont aussi fait émerger quatre nouvelles entreprises - Spiderwort, Incuvers, pHacktory et Pelling Creative - pour appliquer notre recherche et partager nos découvertes avec le monde entier. Il est maintenant temps de célébrer!

Faites la connaissance d'Andrew, ainsi que des membres actuels et passés de son équipe. Voyez comment le Labo Pelling fonctionne… et plus important encore, comment nous faisons la fête. Souriez au talentueux photographe Josh Hotz, pendant que vous mangez de la crème glacée faite à partir d'azote liquide, des parties du corps en 3D faites de guimauve et des bouchées, tout en prenant un verre! Il y aura sur place des invités spéciaux, des discours amusants et des démonstrations interactives.

Un discours sera donné par la Dre Mona Nemer, Conseillère scientifique en chef du Canada et peut-être aussi par certains invités surprise.

Votre billet de participation inclut une consommation (alcoolisée ou non). N'oubliez toutefois pas d'apporter de l'argent au cas où vous voudriez un autre verre.
150 Elgin est desservis pas les routes 5 et 14, et est proche de la station Mackenzie King. Le stationnement est disponible sur la rue.
L'espace est accessible pour les dispositifs de mobilité. S'il vous plaît, nous informer si vous avez des préoccupations concernant l'accessibilité, et nous nous ferons un plaisir de vous aider.

BIOBash est supporté par nos amis de Shopify, IBM, la Musée des sciences et technologies du Canada, Telfer MBA pour cadres et RBC.