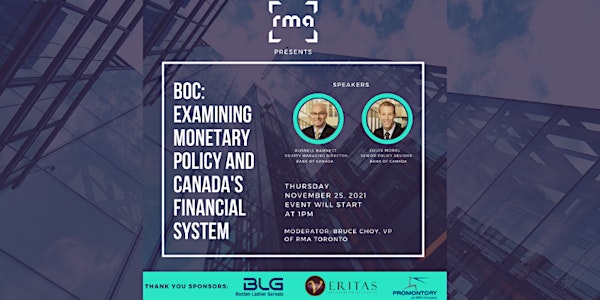 Bank of Canada: Examining Monetary Policy and Canada's Financial System
Join us as Bank of Canada's Russell Barnett and Louis Morel provide insights on the BOC's monetary policy and financial system review.
About this event
Russell Barnett was appointed Deputy Managing Director of the Bank's Canadian Economic Analysis Department (CEA), effective November 12, 2019. In this capacity, he contributes to the strategic direction and management of the department and oversees the Bank's analysis of the Canadian economy. In addition, he conducts analysis and research primarily focused on labour markets, economic forecasting, international trade and monetary policy. Before being appointed to his current position, Mr. Barnett was the Senior Policy Director in CEA.
Louis Morel is a Senior Policy Advisor in the Financial Stability Department (FSD) at the Bank of Canada. As such, he oversees the production of the Bank's Financial System Review. Prior to working in FSD, Louis held various positions of increasing responsibility in the Bank's Canadian and International economic analysis departments. During 2019 and 2020, he also took on a secondment at Employment and Social Development Canada where he was the Director General of the Economic Policy Directorate. Louis holds an MA in economics from Queen's University.