Multiple Dates
BC Active Transportation Design Guide Fall 2019 Training Workshops
Event Information
Location
Multiple Dates and Locations
British Columbia
Canada
Description
NEW DATES AND SKYPE ACCESS ADDED!
In June 2019, the Province of British Columbia released the BC Active Transportation Design Guide as part of Move Commute Connect – BC's New Active Transportation Strategy. The Design Guide is a comprehensive set of planning and engineering guidelines offering recommendations for the planning, selection, design, implementation, and maintenance of active transportation facilities across the province. The Design Guide was created for professionals across British Columbia in the engineering, planning, landscape architecture and architecture fields, and is a valuable resource for elected officials, community groups, and the general public. Further, the Ministry of Transportation and Infrastructure (MOTI) has recently revised their provincial active transportation grant criteria to include congruency with the Design Guide.
MOTI is excited to be offering training regarding the Design Guide to design professionals across the province and to support applications for the provincial active transportation grant program. The training consists of a one-day workshop that provides a comprehensive overview of the Design Guide using a range of learning tools, including presentations, videos, discussions, and hands on exercises.
Workshops will be held in six locations across the Province in November and December 2019 and are offered for a registration fee of $250 per person plus administration fee and GST. Please take note of the dates and locations in the list below and then click on "Select A Date" to register.
Northern BC (Terrace)
City of Terrace Firehall Training Room, 3215 Eby Street, Terrace
Wednesday, November 6, 8:30 – 5:00

Metro Vancouver (New Westminster)
TransLink, 287 Nelson's Court, Room 407, New Westminster
Thursday, November 14, 8:30 – 5:00

Fraser Valley (Abbotsford)
Abbotsford City Hall Training Room, 32315 South Fraser Way, Abbotsford
Monday, November 25, 8:30 – 5:00 - SKYPE ACCESS AVAILABLE

South Island (Saanich)
Horticulture Centre of the Pacific, 505 Quayle Road, Saanich
Wednesday, December 4, 9:00 – 5:00 - SKYPE ACCESS AVAILABLE

**NEW - Northern BC (Prince George)
TRAN R NR REGIONAL FRASER BOARDROOM, Ministry of Transportation
213-1011 4th Avenue, Prince George
Thursday, December 5, 8:30 – 5:00 - SKYPE ACCESS AVAILABLE

Mid-Island (Courtenay)
Courtenay Lawn Bowling Club, Bill Moore Park, 2361 Kilpatrick Avenue, Courtenay
Monday, December 9, 8:30 – 5:00

Okanagan (Kelowna)
Rotary Centre for the Arts, Salloum Room, 421 Cawston Avenue, Kelowna
Friday, December 13, 8:30 – 5:00 - SKYPE ACCESS AVAILABLE

**RESCHEDULED- Kootenays (Nelson)
Grizzly Boardroom, Ministry of Transportation, Nelson
4 – 310 Ward Street, Nelson
Thursday, FEBRUARY 13, 8:00 - 4:30 - SKYPE ACCESS AVAILABLE

Note that continuing professional learning credits are available for this course through the Planning Institute of BC (PIBC), BC Society of Landscape Architects (BCSLA), and Engineers and Geoscientists BC (EGBC)
If you would like to pre-order a copy of the Design Guide for purchase, please visit https://www.crownpub.bc.ca/Product/Details/7680003593_S
The training workshops will be delivered by Urban Systems on behalf of the Province.
For further information about the workshops, or to request additional training opportunities in your community, please contact activetransportation@gov.bc.ca.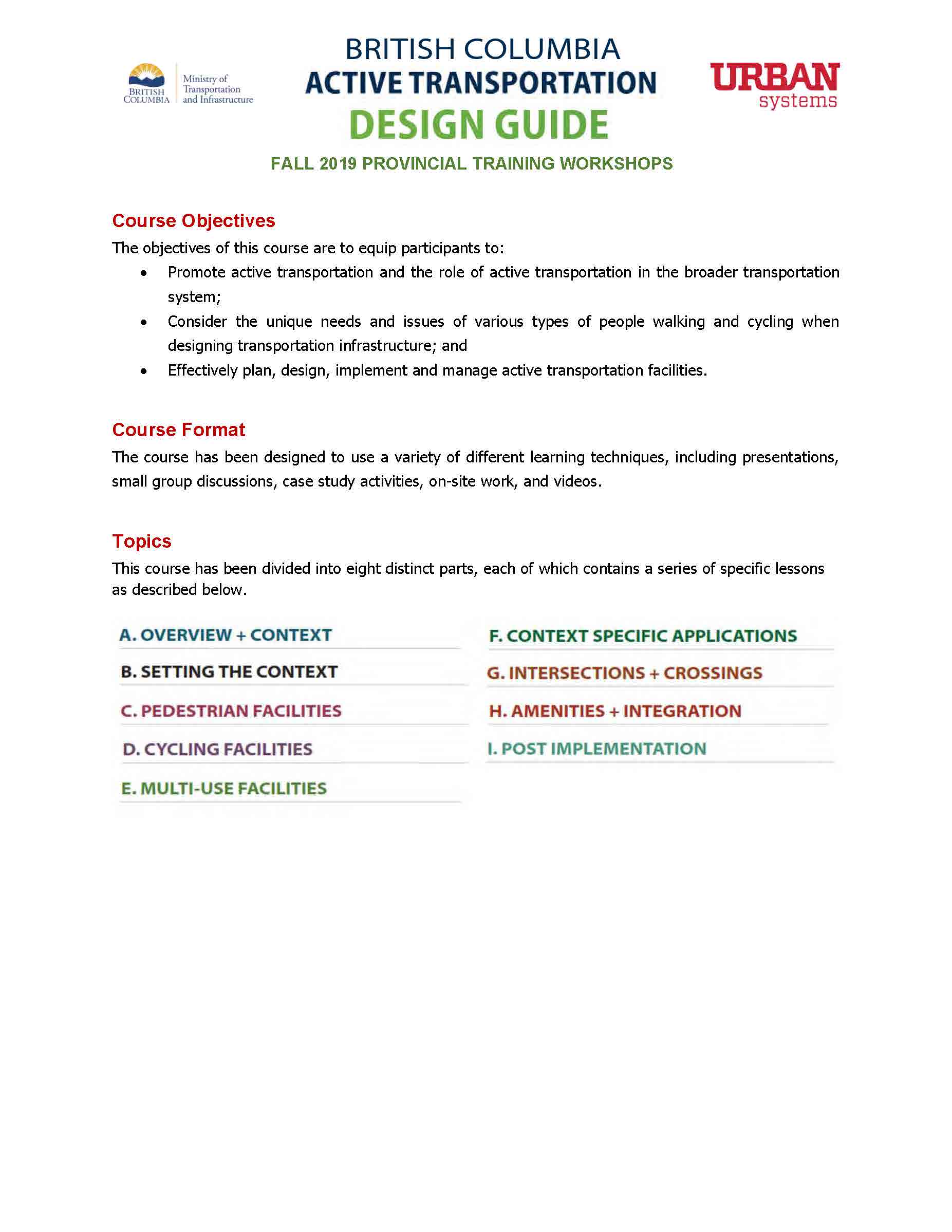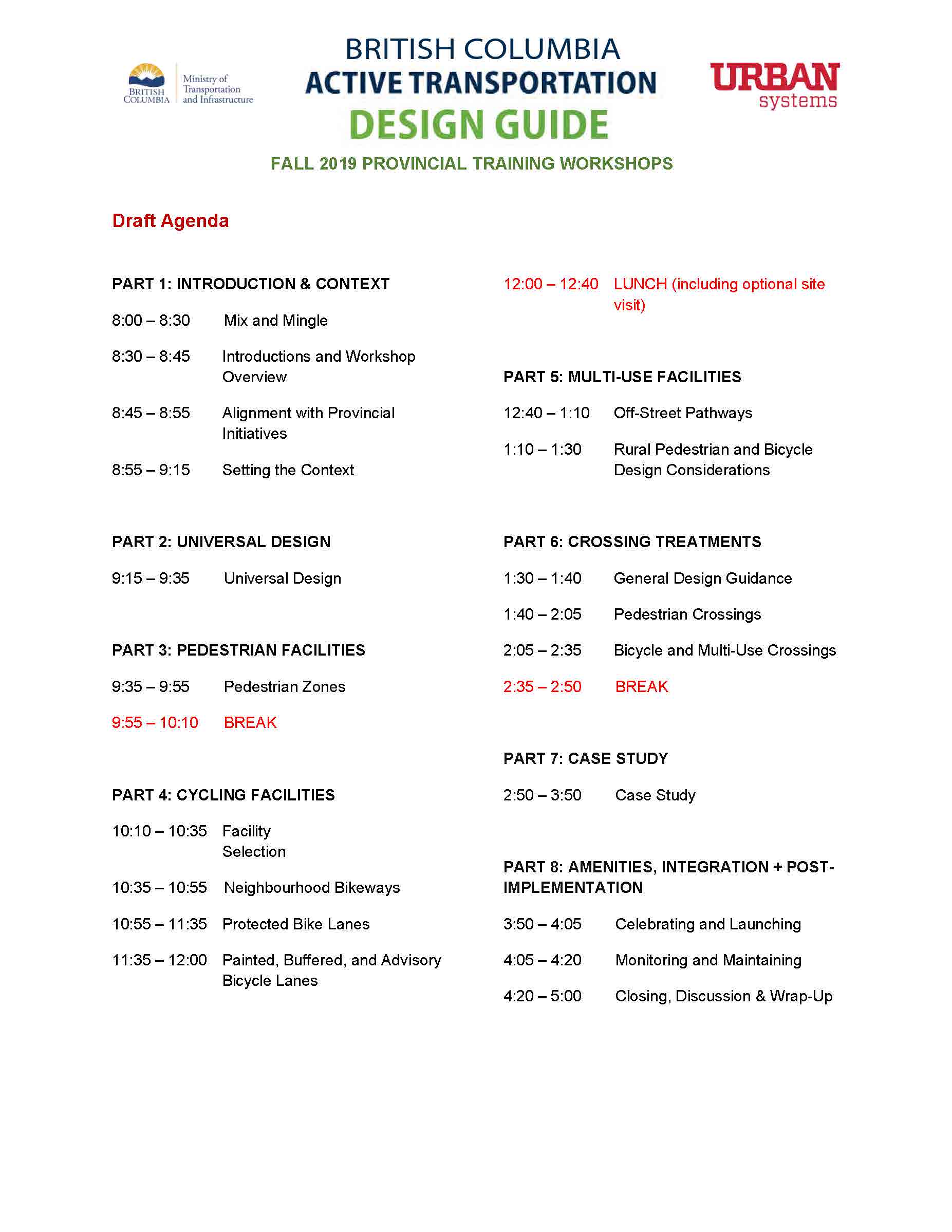 Location
Multiple Dates and Locations
British Columbia
Canada
Refund policy
Organizer of BC Active Transportation Design Guide Fall 2019 Training Workshops
At Urban Systems Ltd., our collective passion as an organization brings us together as a professional practice. We are inter-disciplinary, with professional engineers, community planners, policy analysts, landscape architects, environmental scientists, communications experts, technologists, legal surveyors and administrative professionals working across disciplines to support local and provincial governments and Indigenous clients since 1975.
Our Active Transportation practice has decades of experience collaborating with clients across Canada. We bring together professionals across our 15 offices to work on projects including active transportation master plans, safety reviews, public transportation studies and school travel planning, enhancing mobility options for the communities we serve.