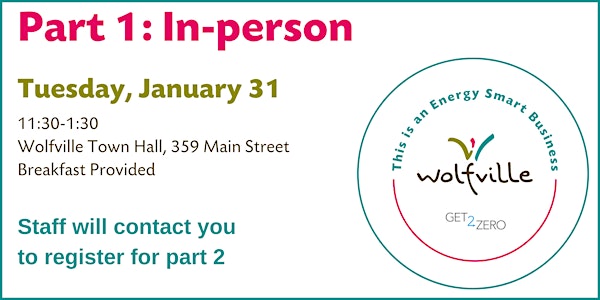 Become an Energy Smart Business (Lunch Provided)
Part 1: In-person: January 31st at 11:30 Wolfville Townhall Part 2 : In-Person: February 6 11:30-1:30 Wolfville Townhall
When and where
Location
Wolfville 359 Main Street Wolfville, NS B4P 1E1 Canada
About this event
The Town of Wolfville and Thinkwell Shift are offering a FREE 2-part workshop for small and medium brick-and-mortar businesses in the Town to help identify low and no cost solutions to save businesses up to 25% on energy bills while reducing greenhouse gas emissions! The workshops are valued at $1,250 and are being provided at no cost for a short time only.
The workshops are broken into two parts. You can register for parts 1 and 2 with different, or register for different days to suit your schedule. Virtual sessions are also being offered and you can attend part 1, 2 or both virtually.
For Wolfville-based businesses, we'll help you get recognition as an Energy Smart Business. Providing a window-cling upon completion and notifying town administrators.
GET 2 ZERO is fully subsidized in partnership with the Nova Scotia Department of Natural Resources and Town of Wolfville.
Light lunch included.
Learn More at ThinkwellShift.ca