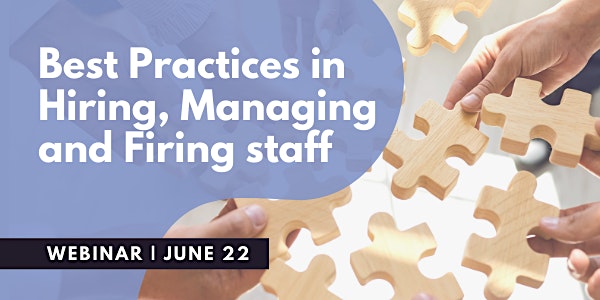 Best Practices in Hiring, Managing and Firing Staff Webinar - Jun 22, 2022
Have you hired employees? Are you considering hiring in the future? Learn effective tips for managing your employees, from beginning to end!
About this event
Employees are instrumental in maintaining and growing many small businesses. As they are directly involved in your essential day-to-day operations, it's important to pick the right people for your business, manage them to the best of your ability, and ensure all your processes are created mindfully and in accordance with the law.
Lise Maclean of Wiser Workplaces will provide practical advice to small business owners on hiring, managing and firing employees.
Attend this webinar and learn:
Hiring
Knowing when to hire
Employees versus contractors
Sourcing and selecting candidates
Following the law
Effective onboarding
Managing
Avoiding rookie mistakes
Managing performance issues and absenteeism
Requests for telework/accommodation
Motivating and recognizing staff
Firing
Types of terminations
Best practices in terminations
Presented by Lise Maclean of Wiser Workplaces