Description
GET TANGIBLE LEADERSHIP INSIGHTS FROM LEADERS IN VARIOUS INDUSTRIES
One full day of training to help you become a better leader.
Beyond is a conference for young professionals and students who are seeking to break into their leadership potential. It will feature a full day of interactive and strategic leadership workshops, insightful keynotes and panel discussions, followed by an intimate evening networking reception at Telus Garden.

We've carefully selected our speakers and workshop facilitators, choosing excellent leaders in various industries to teach you about leadership strategies they've developed throughout their careers.

We'll be covering a wide range of topics, such as leadership styles, communicating like a leader, effective leadership, career paths to leadership roles, building confidence, and much more. If you're ready to learn these skills and use them to significantly in your career, then Beyond Conference is for you!
---
WHY SHOULD YOU ATTEND?
Learn From Amazing Leaders & Experts
Our hand-picked speaker lineup brings you the best mix of leadership strategies and experiences from various industries such as tech, government, finance and more.
Expand Your Leadership Skillset
Engage in interactive workshops created by the leaders themselves and leave with tangible skills and knowledge to bring back into your workplace.
Form Valuable Connections
Beyond Conference is the best environment for connecting with like-minded, driven professionals, knowledge sharing, improving your professional skillsets, and build long-lasting relationships.
A Great Investment For A Great Value
You'll get much more than a conference ticket. All attendees are spoiled with a full lunch, refreshments in the day, light appetizers in the evening, snacks, swag and more.
---
THE SPEAKER LINEUP
This year's spectacular speaker lineup was carefully hand-picked by our team, bringing together the best and interesting minds, and their experiences from various industries. This means you'll be able to take insights from many different perspectives. Visit our website for the full lineup: www.ywibbeyond.ca/speakers.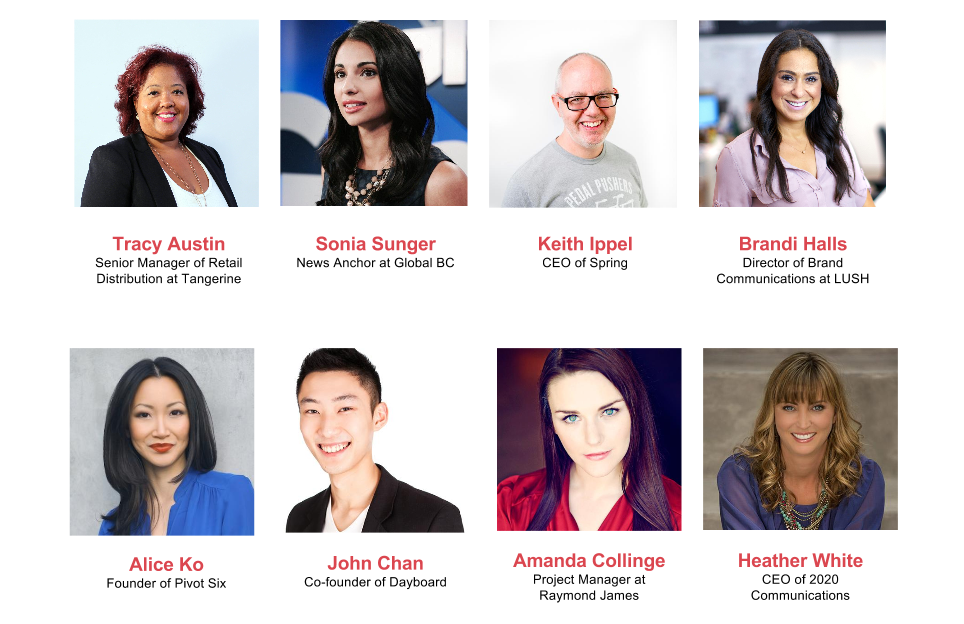 Back by popular demand, we'll have the lovely Melanie Levenburg, Chief Play Officer of PL3Y to help us infuse some positivity and playfulness into our day.
---
A SNEAK PEAK AT OUR WORKSHOP LINEUP
Speak Like A Leader
Learn how to communicate and present yourself using body language, tone, and other speaking strategies to increase confidence working in a team and within your workplace.
Lead From Within
Discover your leadership style and learn how to leverage your strengths and minimize your leadership blind spots. Acknowledge how your peers work and learn how that'll help you become a more effective leader.
The Road to Leadership
Looking to take on a leadership role in the next few years of your career? In this workshop, you will create a plan along with actionable steps to help get you there by working backward from the ultimate goal you have in mind. This workshop will help you clearly outline your journey to leadership.

---
MULTIPLE WAYS TO SAVE ON TICKETS?
Strategy #1: Become a YWiB Vancouver member today! Members get 20% off all YWiB Vancouver events and the Beyond Conference is no exception!
If you sign up for membership now, you can save an additional $30 off the regular price or $24 off the early bird price.
Strategy #2: Grab a friend & get your tickets together using promo code YWIBFRIEND and receive 10% off your tickets + you'll both get FREE tickets to YWiB's Winter Social happening Nov 29th.
All tickets include a full day of presentations and workshops, lunch, refreshments, light appetizers, swag, and evening reception at Telus Garden with food & drinks.
Email beyond@ywib.ca about group discounts of 5 or more.
---
INTERESTED IN BECOMING A SPONSOR?
Lead With Your Brand
Position your company or organization as a leader that actively supports the development of female leaders. Sponsors will receive significant corporate branding in web, communications, program and signage.
Network And Connect
YWiB network represents a niche group of rising young professionals for targeted recruitment. Get access to ambitious, driven, and engaged young women with leadership potential, a significant network, and social influence.
Email beyond@ywib.ca for sponsorship inquiries or download our sponsorship package.
---
MORE INFO
Refund within 7 days of ticket purchase. No refunds after October 19th, 2016.

Ticket transfers no later than November 10th, 2016. Please email beyond@ywib.ca if you will be transferring your ticket for registration purposes.

*All prices shown above are subject to tax & fees
---
PRESENTED BY

---
SPONSORED BY