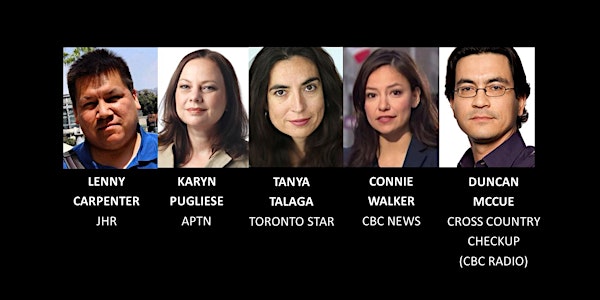 Beyond Missing and Murdered Women: Covering Indigenous Communities
Location
Ryerson University
Eaton Lecture Theatre (RCC 204)
Rogers Communications Centre, 80 Gould St.
Toronto, Ontario
Canada
Description
In partnership with

---
Online ticket sales end at 3pm day of the event. Limited ticket sales available at the door (cash only).

Can't make it in person? Follow #CJFjtalk on Twitter, the J-Source liveblog or the Ryerson University livestream. Podcast and video also available after the event.

It's 2016: Has coverage of Indigenous issues shifted from niche media to the mainstream? In addition to several news organizations' award-winning reportage on missing and murdered indigenous women, ground-level changes—such as the creation of dedicated beats, units, internships and university courses—are intended to bring greater awareness to the history and ongoing challenges faced by the Indigenous community. Does this signal progress and hope for sustained coverage for a community traditionally underserved by the media?
Join Lenny Carpenter, program manager of the Indigenous Reporters Program for Journalists for Human Rights; Karyn Pugliese, executive director of News and Current Affairs for APTN; Tanya Talaga, reporter with the Toronto Star; Connie Walker, investigative reporter for CBC News; and moderator Duncan McCue, host of CBC Radio's Cross Country Checkup, for a conversation on news coverage of indigenous affairs in Canada's new era of truth and reconciliation.

Ahead of the event, take a look at JHR's report Buried Voices: Changing Tones, an examination of media coverage of Indigenous issues in Ontario.
ABOUT OUR SPEAKERS

LENNY CARPENTER is program manager of the Indigenous Reporters Program for Journalists for Human Rights. He is a journalist and filmmaker from the James Bay community of Moosonee. A member of Attawapiskat First Nation, Lenny worked for a combined six years with Wawatay Native Communications Society, serving first as a reporter and most recently its editor and publisher. He also had an internship with CBC Thunder Bay. He graduated from Confederation College's Film Production program in 2011 and had two of his student works screened at local and international festivals. Since moving from home, Lenny returns annually to take part in goose and moose hunting traditions. Now based out of Toronto, Lenny oversees the program that aims to improve the quantity and quality of Indigenous voices in Canadian media. @lennyshish

KARYN PUGLIESE joined APTN as the director of News and Current Affairs in 2012 and was promoted to executive director of News and Current Affairs in 2014. She brings more than 15 years of experience in the broadcast and communications industries to the network. Pugliese also has years of experience investigating and reporting controversial and hard-hitting stories which have garnered national attention. Her stories have won Native American Journalism Awards and she was also nominated for a Canadian Association of Broadcasters' Gold Ribbon Award. With experience as a producer/host at ichannel, Pugliese credits the launch of her journalism career to APTN, where she worked as an Ottawa reporter/correspondent from 2000 to 2006. In addition to her experience at APTN and ichannel, she has also worked with the Assembly of First Nations, Vision TV, and the CBC. Experienced in social media management, she works closely with the news and current affairs team to engage with and reach a wider audience in Canada. Pugliese is a proud member of the Algonquin First Nation of Pikwàkanagàn. She grew up on her Peoples' traditional (and unceded) territory which is, today, known as Ottawa. @KarynPugliese
TANYA TALAGA has been a journalist at the Toronto Star for 20 years. In that time she has covered everything from general city news to education, national healthcare issues, politics and indigenous affairs. This year, Talaga was part of a team of journalists who won a 'Project of the Year' National Newspaper Award for their series on murdered and missing indigenous women and girls. In 2013, she was part of a team of journalists who won this same award for their coverage of the Rana Plaza disaster in Bangladesh. Also this year, Talaga was part of the Star team nominated for a Michener Award in public service journalism along with the CBC and The Globe and Mail. This was her fourth Michener nomination. In fall of 2017, her book, Seven: Racism, Death and Hard Truths in a Northern City, will be published by House of Anansi. The book delves into the disappearances and deaths of seven indigenous students from remote First Nations communities, who were at high school in Thunder Bay. Talaga is of mixed ancestry. Her grandmother is Ojibway, a member of Fort William First Nation and Talaga's mother was raised in the bush outside of Thunder Bay by her grandmother, a residential school survivor. Talaga lives in Toronto with her two teenage children. @TanyaTalaga

CONNIE WALKER is an award-winning investigative journalist for CBC News specializing in reporting on Indigenous issues. She is a regular contributor to CBC's The National, The Current and CBC Aboriginal. Connie is Cree and was raised on the Okanese First Nation in Saskatchewan. She currently lives with her family in Toronto. @connie_walker
ABOUT OUR MODERATOR
DUNCAN MCCUE is the host of CBC Radio One's Cross Country Checkup. McCue was a reporter for CBC News in Vancouver for over 15 years. Now based in Toronto, his news and current affairs pieces continue to be featured on CBC's flagship news show, The National. McCue's work has garnered several RTNDA and Jack Webster Awards. He was part of a CBC Aboriginal investigation into missing and murdered Indigenous women that won numerous honours including the Hillman Award for Investigative Journalism. McCue has spent years teaching journalism at the UBC Graduate School of Journalism and was recognized by the Canadian Ethnic Media Association with an Innovation Award for developing curriculum on Indigenous issues. He's also an author: his book The Shoe Boy: A Trapline Memoir recounts a season he spent in a hunting camp with a Cree family in northern Quebec as a teenager. He was awarded a Knight Fellowship at Stanford University in 2011, where he created an online guide for journalists called Reporting in Indigenous Communities (www.riic.ca). Before becoming a journalist, McCue studied English at the University of King's College, then Law at UBC. He was called to the bar in British Columbia in 1998. McCue is Anishinaabe, a member of the Chippewas of Georgina Island First Nation in southern Ontario, and proud father of two children. @DuncanMcCue


---
VENUE SPONSOR



---
CJF J-TALK SERIES SPONSOR

---
IN-KIND SUPPORTERS


---

CJF J-Talks: Journalism matters. | #CJFjtalk