Event Information
Refund Policy
Contact the organizer to request a refund.
Eventbrite's fee is nonrefundable.
Is happiness after midlife a myth?
About this Event
Enjoy discounted rates during our Beyond U sale on now!
According to the U-Curve of Happiness - a theory that our life satisfaction drops to its lowest point in midlife, and begins its recovery around age 50 - the answer is NO.
At Power Purpose Play we want to flip the script from midlife "crisis" to midlife reinvention. This is the time to fearlessly embrace all of our talents and creativity, to make midlife (and beyond) our best life. The Beyond U Conference will empower you to recognize your innate strengths and talents to embrace a life of renewed purpose - to go BEYOND the U you are today.
Fuel your personal POWER.
Embrace your PURPOSE.
Enjoy the present moment and make time to PLAY.
Join us for 3 days of live talks with world-class speakers, interactive workshops, panel discussions, and of course, play! Plus, you'll have the opportunity to learn and connect with like-minded women in the Power Purpose Play community.
Go BEYOND the U you are today!
Choose from a One-Day Pass, 3-Day Pass or our special "One-Plus-One" 3-Day Pass (for you and a friend). All live sessions are recorded, so you'll have access to them after the event!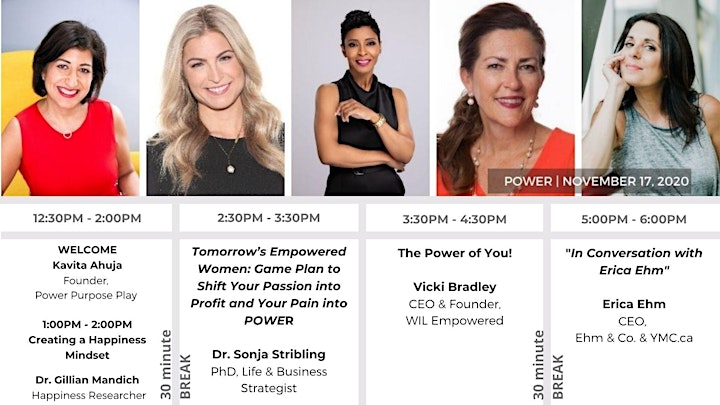 DAY 1 | POWER | 12PM - 6PM
Kavita Ahuja, Founder of Power Purpose Play kicks off Beyond U with a welcome. We'll introduce the concept of the Happiness U-Curve and help you answer the questions, what are my internal super powers? How can I apply them moving forward to create a life I want, on my own terms? How can I tap into my intuition to help drive my goals forward?
Learn how to empower yourself with the right mindset to achieve your goals.
Featuring:
Happiness Researcher, Dr. Gillian Mandich: Creating a Happiness Mindset
Sonja Stribling, PhD, Life & Business Strategist: Tomorrow's Empowered Women: Game Plan to Shift Your Passion into Profit and Your Pain into POWER
Vicki Bradley, CEO and founder of WIL Empowered: The Power of You!
Special guest Erica Ehm joins us for a Q&A-style interview where she answers YOUR questions! Erica is an entrepreneur, thought leader and creator. Of course we first knew her as a MuchMusic television host! Send questions to hello@powerpurposeplay.ca in advance.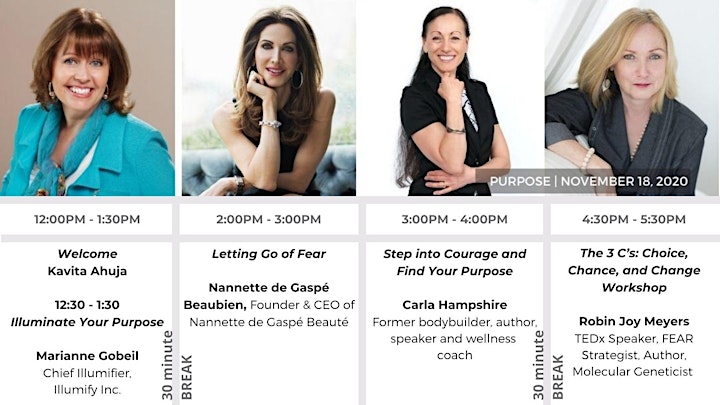 DAY 2 | PURPOSE | 12PM - 6PM
These sessions will help you tap into your personal talents and strengths to embrace a renewed purpose in midlife. Learn actionable tools and strategies from others who have overcome fear and limiting beliefs to exceed their own expectations.
Featuring: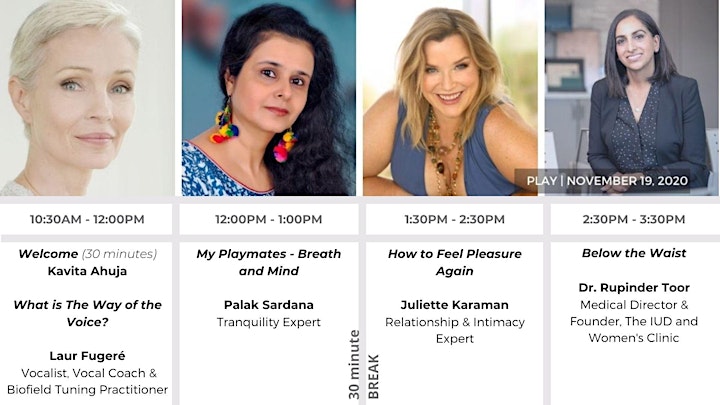 DAY 3 | PLAY | 10AM - 4PM
Please note! Due to time zone differences with speakers, Day 3 begins earlier.
This is a day of play, a day of mindfulness and joy aimed at helping you bring that feeling of fun into your everyday life. Learn how to be present in the moment. Discover unique ways to tune into your own voice and connect with your breath and your body.
Featuring:
Laur Fugère, former vocalist with Cirque du Soleil and vocal coach
Wellness coach, yoga teacher and motivational speaker, Palak Sardana
Intimacy and relationship expert, Juliette Karaman
Dr. Rupinder Toor, Medical Director & Founder, The IUD & Women's Clinic
And more to be announced!
Date and Time
Location
Refund Policy
Contact the organizer to request a refund.
Eventbrite's fee is nonrefundable.