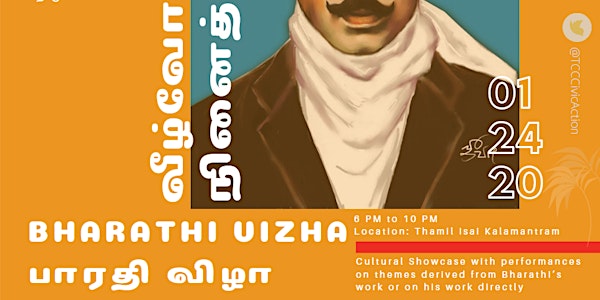 Bharathi Vizha: "வீழ்வோமென்று நினைத்தாயோ!"
Please join us for our tribute concert to the renowned poet, activist and social reformer Mahakavi Bharathiyar!
When and where
Location
Thamil Isai Kalaa Manram of Ontario 1120 Tapscott Road ##3 Toronto, ON M1X 1S9 Canada
About this event
Tamil Canadian Centre for Civic Action (TCCCA) is very excited to Present: Bharathi Vizha in Toronto. The event, a Tamil Canadian Tribute to Bharathi, will be hosted to support the project to name a park in Toronto as "Bharathi Park" after Mahakavi Subramaniya Bharathiyar.
Mahakavi Bharathiyar was a poet, freedom fighter and social reformer. He is considered to be one of the world's greatest poets and regarded as the father of the modern Tamil poetry. The goal of naming a park after such a historical figure is to not only pass on our cultural significance for future generations but to preserve one of the richest and oldest renowned languages/histories.
As part of this effort, we want to run an online campaign consisting of many Tamil Canadian artists sharing support for this initiative through sharing their connection to the work of Bharathi. The online campaign can take many forms, including a form of a video (not more than 5 minutes) showcasing your talent, a connection to the work of Bharathi and supporting the initiative. Video is just one of the many forms you can participate. If you instead would like to share a write up, a photo, a visual art piece, an audio clip, a poem, they are all welcome.
Your support is very critical for making this initiative a reality.
If you are interested, please let us know as soon as possible. We will be releasing the names of the artists who agree to participate in batches of 10 starting October. The products/presentations won't be going online until October 1st at the earliest.
This stage program at Thamil Isai Kala Mandram on January 24th. Please email us at info@tamilcivicaction.com if you have any suggestions or questions.