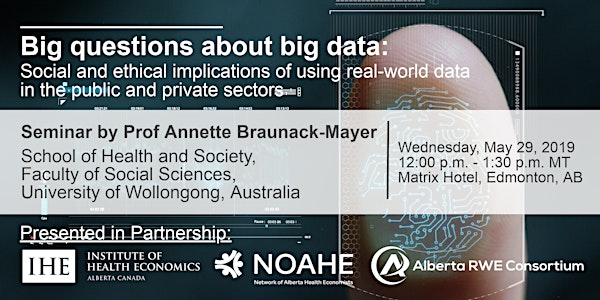 Big Questions About Big Data
When and where
Location
The Matrix Hotel 10640 100 Avenue Northwest Amber Room Edmonton, AB T5J 1J1 Canada
Description
Big questions about big data: Social and ethical implications of using real-world data in public and private health

Until fairly recently, the only 'big data' applications we saw were from established data linkage groups which had solid policies and procedures for ensuring ethical conduct. Increasingly, we are seeing a range of new developments – researchers working outside those large groups who want to link their own small research or clinical data with public population datasets and private sector clinical research organisations (CROs), pharmaceutical companies and device manufacturers who want to link their own data with other public and private population datasets. Outside of the health sector, educational and social care organisations are also discovering that data linkage can facilitate rigorous evaluations of their own programs.
Join Prof Annettee Braunack-Mayer for an engaging talk on the social and ethical issues related to the collection and use of real world data to inform private and public health care decisions. Prof Braunack-Mayer will describe some of her current projects about these issues and the challenges they perceive for the future and the policy environment around data linkage and the likely future challenges.
A light lunch will be provided.