Event Information
Location
Rehabilitation Sciences Building
500 University Avenue
Room 235
Toronto, ON M5G 1V7
Canada
Bilingual Development WORKSHOP: From Theory to Clinical Practice
About this event
Join us online or in person on Friday, February 21st from 1:00-4:00 pm (EST) at our workshop on the topic of bilingual development.
Online attendees can access the workshop via Blackboard Collaborate here: https://ca.bbcollab.com/guest/db5ccb421ee34bc592f9e8175d61163c
Featured speakers include Dr. Linda Polka and Dr. Ellen Bialystok!
Each talk will be followed by a discussion by the attendees on the clinical implications of current theoretical findings on bilingual development.
Dr. Linda Polka, McGill University
Bilingual from the start: Variable language experiences and their relationship to vocalization and word segmentation in infants exposed to two languages
Infants' early language experiences play a critical role in their language development. In this talk, I will examine the nature of this relationship in a bilingual context. Two related lines of research will be present. The first line provides a detailed view of language input patterns experienced by twenty-one infants growing up in French/English families and explores how specific Input factors (social context; language context) are related to infant vocalization rates in these infants. The second line examines how global patterns of language experience (monolingual vs bilingual) affect word segmentation in young infants. This work builds our understanding of the factors that shape the developmental trajectory and processing capacities of bilingual infants and informs our basic knowledge of spoken language acquisition.
Dr. Ellen Bialystok, York University
How Bilingualism Changes Minds
All our experiences contribute to the way our minds and brains develop, but intense experiences have a special role in shaping our cognitive systems. No experience is more intense than our use of language, so a lifetime of learning and using two languages has the potential to leave a profound mark on human cognition. This talk will review evidence from across the lifespan showing how bilingualism leads to modifications in brain structure and cognitive processes.
Faculty, clinical graduate/undergraduate students and trainees are all welcome!
This event is sponsored by Social Sciences and Humanities Research Council of Canada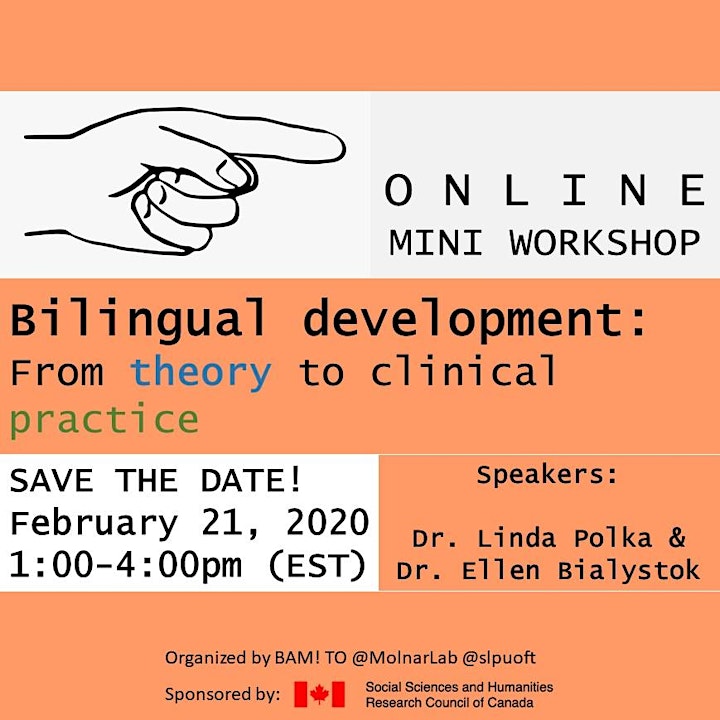 Date and time
Location
Rehabilitation Sciences Building
500 University Avenue
Room 235
Toronto, ON M5G 1V7
Canada