Sales Have Ended
Registrations are closed
Thanks for your registration. Your event access will be sent to your email on the morning of the event. See you on Feb 25th, 6:00 PM EST
Sales Have Ended
Registrations are closed
Thanks for your registration. Your event access will be sent to your email on the morning of the event. See you on Feb 25th, 6:00 PM EST
Black Can Tech: Excelling in the Tech Ecosystem
About this event
Every February, people across the nation come together for events and activities to celebrate Black History Month. It's a time for us to continue our collective journey of honouring and deepening our knowledge of the history and contributions of Black people who have been marginalized disproportionately in most of our workplaces and communities due to legacies of slavery, systemic and structural racism.
We are excited to celebrate the Black History Month in partnership with RBC - a renowned organization that has been championing Diversity, Equity and Inclusion in the workplace and society. Our theme for 2021 is "Black can Tech:Excelling in the Tech Ecosystem'' and our Sub theme is Pivoting from Non-Tech to Tech Domains.
Come celebrate with us and listen to our members who have defied the odds by moving from disciplines like accounting and economics to becoming sought after software engineers and Tech gurus.
About the Keynote Speaker:
Prof. Rita Orji is a Canada Research Chair in Persuasive Technology, and a Computer Science Professor at Dalhousie University, Canada where she directs the Persuasive Computing Lab. Her research in the area of Human-Computer Interaction focuses on designing interactive technologies that empower people, improve lives, and contribute to solving many societal problems. She applies her work to tackle real-life problems in various domains including improving a wide range of health and wellness outcomes such as mental health, healthy eating, physical activity, smoking cessation, sexual and other health risk behaviours. She has won many competitive funding from agencies and governments around the world to support her work.
With over 160 peer-reviewed papers, Prof. Orji has won over 50 prestigious awards and recognitions nationally and internationally in recognition of her outstanding achievements both in academia and in the society at large. Recently, she was recognized as one of the Top 150 Canadian Women in Science, Technology, Engineering, and Mathematics (STEM), one of the Top 60 African Women in STEM, Top 50 Young Most Influential Best Brains in Enugu State, Nigeria, and admitted into the Royal Society of Canada. She also won many research excellence awards and a digital leadership award as a Women Leader in Digital Economy for her work in advancing technology both in Canada and in her native country of Nigeria.
Prof. Orji is a renowned speaker who has delivered over 100 invited talks, keynote speeches, and public presentations. She has attracted over 100 instances of media coverage by major news organizations such as the Canadian Broadcasting Corporation (CBC), the Nigerian Television Authority (NTA), and StarPhoenix on account of her work and empowerment programs with significant social and community impact. She was also a speaker at a United Nations panel. Above all, Prof. Orji is a Champion of diversity and inclusion in STEM through her numerous activities and using herself as a practical example. She founded the Education for Women and the Less Privileged Foundation. She is passionate about inspiring the next generation of youths and female tech leaders, promoting research excellence, equity, diversity, and inclusion in STEM. Prof. Orji also consults and serves as a board member for many agencies. She graduated as a top student with First-class honours standing in all her studies and was recognized by various governments including the Nigerian, Turkish, and Canadian Governments for her outstanding performance. She is a highly sought-after speaker and mentor who broke the barriers of growing up in a disadvantaged background and making a great impact on the global stage.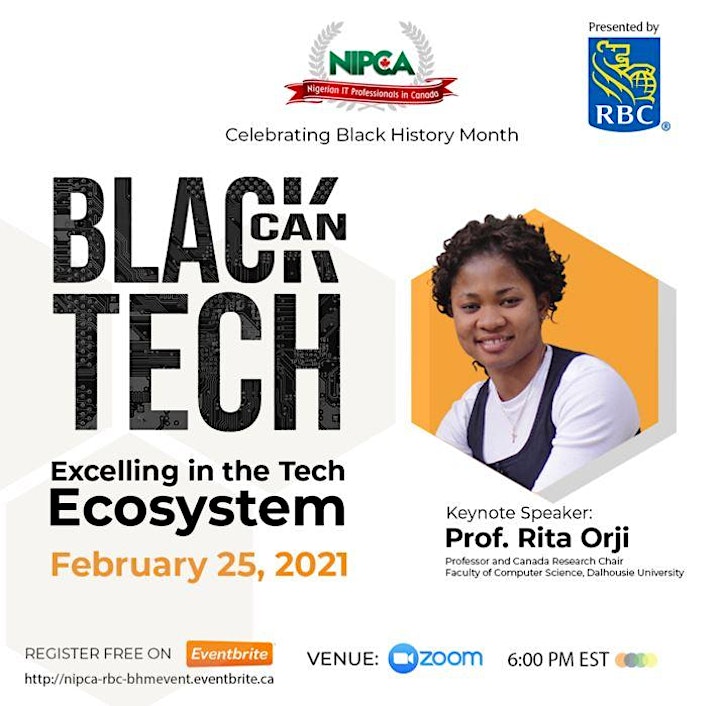 About NIPCA:
Nigerian IT Professionals in Canada (NIPCA) is a progressive and dynamic organization that champions Integration, Inclusion, Diversity, Career growth and advancement of Black professionals of African descent. We work with organizations and corporate partners to empower our members and communities to become the very best versions of themselves, thereby meaningfully contributing to the Canadian economy and building a stronger community for everyone to thrive and succeed.
With 5000+ network members across Canadian provinces, 11 Incubation Groups, Mentorship Programs, Annual Global Growth Conference, Annual Hackathon, Weekly Tech and Entrepreneurship Masterclasses, and Career fairs, NIPCA is blazing the trail and have helped members achieve their dreams with over 200+ job fulfillment in the last 2 years.
Connect with us:
Instagram: @nipcacanada
Facebook:@nipcacanada
Twitter:@nipcacanada
Email: info@nipca.ca
Website: www.nipca.ca