Sales Have Ended
Registrations are closed
We're so glad you will be joining us for the Board Leadership Calgary 2020 Non-Profit Learning Event! We're so happy you could be a part of such a great community of learning and networking! You will receive the Zoom link to the event in the days leading up to the event. If you have any questions, please don't hesitate to contact us at boardleadershipcalgary@gmail.com
Sales Have Ended
Registrations are closed
We're so glad you will be joining us for the Board Leadership Calgary 2020 Non-Profit Learning Event! We're so happy you could be a part of such a great community of learning and networking! You will receive the Zoom link to the event in the days leading up to the event. If you have any questions, please don't hesitate to contact us at boardleadershipcalgary@gmail.com
We are back with the annual Board Leadership Calgary learning event for non-profits! This year the whole event will be FREE and virtual.
About this event
New to 2020
2020 has brought some interesting challenges to the Board Leadership Calgary planning team, but we are committed to providing high quality learnings for your non-profit organizations. Like previous years, the intention is to provide basic level learnings for board of directors, staff, and those looking to be involved in non-profit organizations.
This year's learning event will have a different format. We are spreading the learning to three different days of online webinars and three OPTIONAL "Follow Up Friday's" for networking and an extended Question and Answer period, following the topic of the week.
Costs
Free. As a thank you for your continued support of Board Leadership Calgary.
Please note that you will need to register for individual webinars and Follow-Up Friday's to attend.
Thank you to our sponsors for continued support of our event
Friends of the Federation of Calgary Communities
Servus Credit Union
Simple Cloud Works.

Anti-Racism and Equity is for Everyone
Topic Area: People / Human Work
Date of Webinar
Saturday, December 5 from 10:00 am to 12:00 pm
Please Note the start time and end time differs from previous webinars.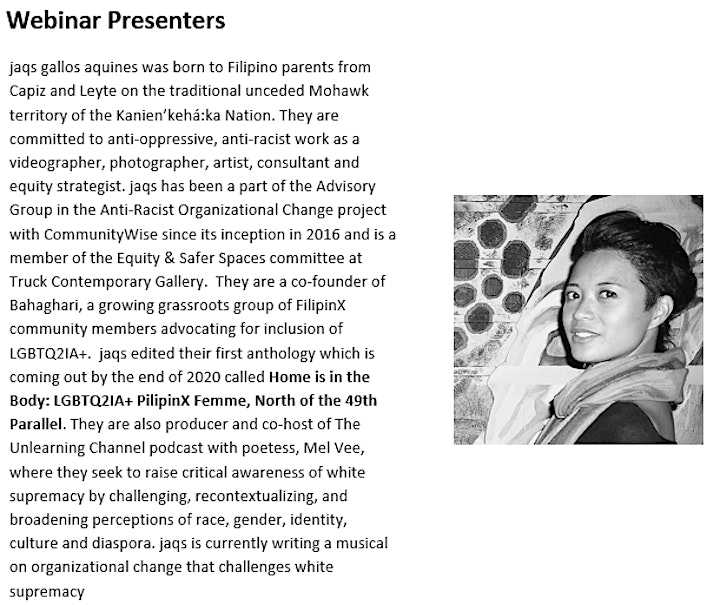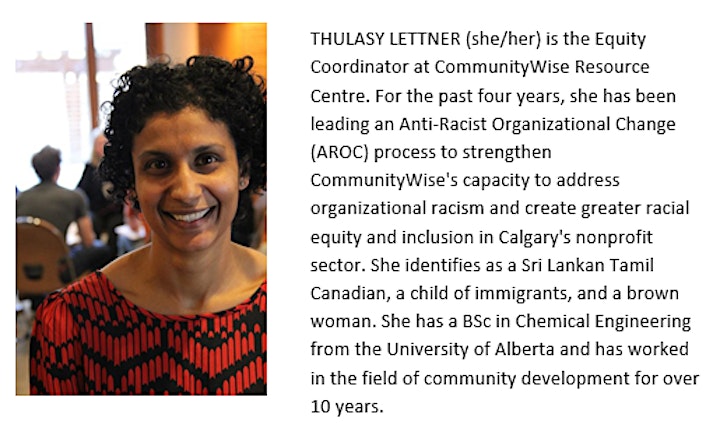 Webinar Description
We're living in a moment of racial reckoning. Since the murder of George Floyd, the scale of Black Lives Matter protests, from grassroots organizations to registered charities, individuals and community organizers must consider what this cultural revolution is asking of us. Many nonprofits are wondering how they can best respond to this moment and how they can hold themselves accountable to their Black, Indigenous, and racialized community members. But taking action is not easy, and many may be paralyzed into inaction. In this session, we will talk about why taking action to address racism is critical for nonprofits to do, and how to overcome the barriers and challenges they may encounter as they begin this work.
In this 2-hour session we will discuss:
Anti-racism and accountability to community can develop as emergent strategy
How prioritizing equity, accessibility and intersectionality serves all of us
Important note: In this session, we will be talking about race, racism, racialization, and white supremacy directly and openly. This may be uncomfortable for some attendees, and that's ok. The purpose of this session is to walk into our discomfort around racism and learn how we can better understand it together. The facilitators ask that all attendees adhere to their "Accountable Spaces Guidelines" (which will be introduced in the session). Sincere questions that seek to build understanding are welcome, but discrimination of any form will not be tolerated within the session. By signing up for this webinar you are adhering to the information presented here.
Follow Up Friday
Friday, December 11 from 12:00 pm to 1:00 pm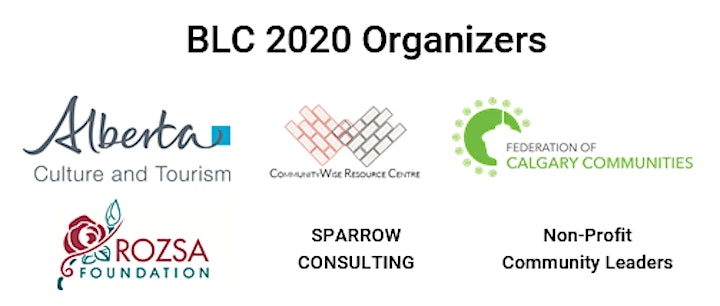 BLC Organizers
Alberta Culture, Multiculturalism & Status of Women, Community Development
CommunityWise Resource Centre
Federation of Calgary Communities
Rozsa Foundation
Sparrow Consulting
Other Non-Profit Community Leaders
Organizer of BLC 2020 - Anti-Racism and Equity is for Everyone