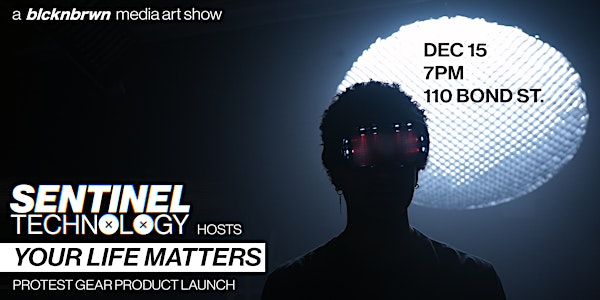 blcknbrwn presents: Your Life Matters
blcknbrwn present "Your Life Matters" a collection of wearables in Sentinel Technology's new collection "The People's Armour"
Date and time
Thu, Feb 16, 2023 7:00 PM - 10:00 PM EST
Location
110 Bond St 110 Bond Street Toronto, ON M5B 1X8 Canada
Refund Policy
Contact the organizer to request a refund.
Eventbrite's fee is nonrefundable.
About this event
POSTPONED: Due to the weather advisory in Toronto on December 15th, 2022 this event has been postponed until February 16th, 2023 for the safety of all attendees and staff. See you all in the new year!
Toronto-based New Media Arts collective, blcknbrwn present their inaugural show, Your Life Matters – a series of satirical wearable protest gear designed to functionally support protestors to navigate police interactions. The work is presented by Sentinel Technology, a fictitious organization who will be the true host of the evening. Through these artworks, filmmaker Maziar Ghaderi, and afrofuturist Tristan Sauer take aim at neoliberal corporations appropriating activist culture as shelf-ready commodities for profit. In this speculative storyworld, our hosts, Chuck Hogan and Egon Beckett, the infamous duo of Sentinel Technology will present their chic new wearable tech collection, The People's Armour, prime for a revolution. What could go wrong? Shoutout: KeNdAlL JeNnEr.
This event will additionally operate as a live film set for a mockumentary project started by the collective. This means you'll witness the antics of Sentinel Tech staff (played by actors) as some scenes are filmed at the live event -- such as speeches or staff bickering. This also means that you may be captured on camera in the background chatting, dancing, munching on popcorn or reacting to a speech. If so, your appearance in the project would be momentary and minimal, but we just want to make sure you understand what's going on and we ask that you continue acting as though you are at a party (which you are!). There is no confirmation on public release at the moment, but the mockumentary might end up at a film festival, community screening or digital platform! So by attending the event, anyone who is on-site at HQ, located at 110 Bond St, Toronto on the evening of Feb. 16, 2023 effectively consents to having their image and sound recorded and used for the express purpose of the mockumentary, its worldwide public release, and marketing purposes for the collective. Clear signage articulating this information will be made available on-site.
If you have any questions or concerns for the collective or wish to not be recorded in any capacity, please reach out to us at info@blcknbrwn.ca
Parking off-site | Bar with optional donations | Light snacks before 8 pm
ABOUT THE COLLECTIVE
blcknbrwn is a multidisciplinary New Media Art collective founded by Maziar Ghaderi and Tristan Sauer that explores the intersections of Black and Brown identities within a North American, urban, Anglo context. The collective uses the mediums of film, video art, interactive art, wearable art, exhibitions and multimedia installations.
You can follow the collective's work on their website and Instagram and direct all inquiries to info@blcknbrwn.ca
ABOUT THE ARTISTS
Maziar Ghaderi is an award-winning director, writer, producer, multimedia artist, and educator that works in film, multimedia and interactive technology currently residing with his wife and son in Toronto, Ontario, Canada. With a background in media production, Maziar strives to articulate his social commentary through metaphors, epiphanies and critiques that speak to the zeitgeist of our times.
Tristan Sauer is a New Media Artist and Curator working with physical computing, wearable technology, and 3D fabrication. Sauer's practice is critically focused on technology and capitalism, viewing their relationship as a potential modern-day Pandora's box. He is interested in the intersections between our digital and physical worlds, and how technology affects the various facets of human existence. Often expressed through his own identity as an Afro-Canadian, Sauer explores these topics through both an Afro-futuristic and Afro-Pessimistic lens.
HEALTH AND SAFETY INFORMATION
While the university's mask policy is currently on pause, here at The Studio we strongly encourage community members to wear a well-fitted mask while indoors, particularly when sharing small enclosed spaces with others where physical distance cannot be maintained, such as elevators and small meeting rooms.
STAY HOME IF YOU ARE UNWELL
As we head into cold and flu season, it is even more important that all individuals accessing campus continue to self-monitor for symptoms and not come to campus if they feel unwell.
IF YOU TEST POSITIVE FOR COVID-19
If you test positive after the event, we kindly request that you contact the event organizer. Likewise, if a member of our community becomes ill, you will be notified. For more information specific to COVID-19, review the Ontario government's guidance on what to do if you have symptoms of COVID-19.