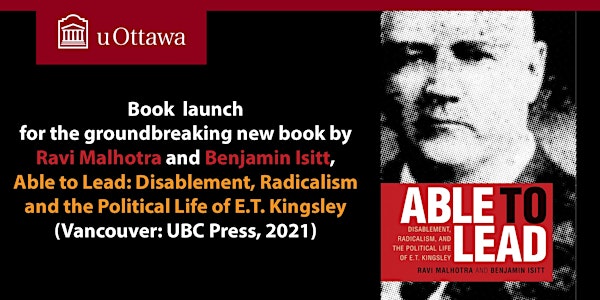 Book launch by Ravi Malhotra and Benjamin Isitt
Book Launch: Able to Lead: Disablement, Radicalism and the Political Life of E.T. Kingsley
About this event
Join us for the launch of the groundbreaking new book by Ravi Malhotra and Benjamin Isitt, Able to Lead: Disablement, Radicalism and the Political Life of E.T. Kingsley (Vancouver: UBC Press, 2021)!
Authors: Ravi Malhotra, Professor, Faculty of Law Common Law Section and Dr. Benjamin Isitt
Commentators: Professor Bryan Palmer, Trent University and Professor Geoffrey Reaume, York University
Chair: Dr. Regina Bateson, Professor, Faculty of Law and Graduate School of Public and Interna-tional Affairs
The launch is taking place on Tuesday, June 15, 2021 simultaneously from Ottawa, Ontario (at 7:00 pm EST) and Victoria, British Columbia (at 4:00 pm PST).
Register for the Zoom log-in details! (the info will be sent the day prior the event)
And learn more about the book here: