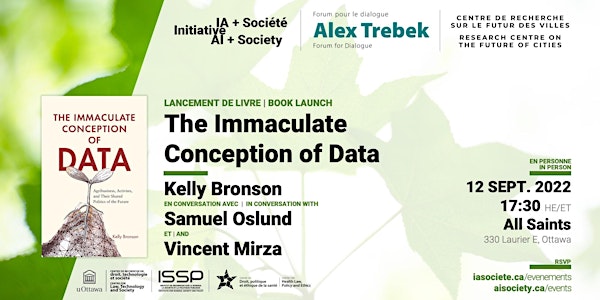 Book Launch: The Immaculate Conception of Data
Join us for a conversation around Dr. Kelly Bronson's new book The Immaculate Conception of Data!
When and where
Location
All Saints 330 Laurier Avenue East Ottawa, ON K1N 6P9 Canada
About this event
Join us for a conversation around Dr. Kelly Bronson's new book The Immaculate Conception of Data, offering a look into the struggle to control the food system and the role big data holds in this power play.
Nowadays, every new tractor now contains built-in sensors that collect data and stream them to cloud-based infrastructures. The agribusinesses that use these data, like seed and chemical companies, are a form of "big tech" commerce operating alongside firms like Google and Facebook.
In her new book, The Immaculate Conception of Data, Dr. Bronson peeks behind the secretive legal agreements surrounding agricultural big data to trace how it is used and with what consequences. Agribusinesses are among the oldest oligopoly corporations in the world, and their concentration gives them an advantage over other food system actors. Dr. Kelly Bronson explores what happens when big data get caught up in pre-existing arrangements of power. Her richly ethnographic account details the work of corporate scientists, farmers using the data, and activist "hackers" building open-source data platforms. Actors working in private and public contexts have divergent views of whom new technology is for, how it should be developed, and what kinds of agriculture it should support. Surprisingly, despite their differences, these groups share a way of speaking about data and the value of data for the future. Bronson calls this the immaculate conception of data, arguing that this phenomenon is a dangerous framework for imagining big data and what it might do for society.
Drawing our attention to agriculture as an important new site for big tech criticism, Dr. Bronson uniquely bridges science and technology studies, critical data studies, and food studies, bringing to light salient issues related to data justice and a sustainable food system.
The author, Dr. Kelly Bronson, will be joined by farmer Samuel Oslund for a conversation on data, powers and the future of our food and environment that will be moderated by Prof. Vincent Mirza.
À propos des conférencier(e)s | About the Speakers
Dr. Kelly Bronson is the Canada Research Chair in Science and Society, a Faculty member at the Centre for Law, Technology, and Society, and an Associate Professor within the School of Sociological and Anthropological Studies in the Faculty of Social Sciences at the University of Ottawa. She is a social scientist studying science-society tensions that erupt around controversial technologies (GMOs, fracking, big data & AI) and their governance. Her research aims to bring community values into conversation with technical knowledge in the production of evidence-based decision-making. She has published her work in regional, national and international journals. She has several competitive grant-funded projects looking at emergent technologies used in agriculture and in environmental impact assessment.
Samuel Oslund is a farmer, designer, and researcher based in Tiohti:áke / Montreal. He works with grassroots agricultural innovation organizations that are developing open-source technology for small-scale, sustainable agriculture. Samuel co-founded and managed the Santropol Roulant Farm and currently coordinates Les Jardins patchwork, a community based farm in Senneville, Quebec. Samuel is also a member of the a working group made up of scholars, civil society, and activists looking at the impact of digital technology on small scale agriculture.
Dr. Vincent Mirza is Director of the Research Centre on the Future of Cities and uOttawa-ULyon Joint Research Chair on Urban Anthropocene. He conducts research in urban anthropology and is interested in the relationship between cities and the environment in order to conceptualize the issues and challenges of an anthropology of contemporary worlds. Problematizing the themes of the transformation of work, neighbourhoods and daily life, architecture and environmental crisis allows him to reflect on contemporary urban processes and how they recompose and decompose spaces and social relations in an advanced capitalist context - in Japan, East Asia and in large urban agglomeration.
Les portes ouvrirons à 17 h 00. Une réception suivra. Cet événement est gratuit. Néanmoins, l'inscription est obligatoire. Cet événement sera en anglais seulement. Cet événement sera enregistré et des photos pourraient être prises.
Doors open at 5:00pm. A reception will follow. This is a free event. However, registration is required. This event will be in English only. The event will be recorded, and photos may be taken.
Cet événement est présenté par le  Projet sur l'IA pour des humains et environnements sains du Forum Alex-Trebek pour le dialogue à l'Initiative IA + Société  et le Centre de recherche sur le futur des villes,  en collaboration avec le Centre de recherche en droit, technologie et société, l'Institut de recherche sur la science, la société et la politique publique et le Centre en droit, éthique et politique de la santé .
This event is presented by the  Alex Trebek Forum for Dialogue Project on AI for Healthy Humans and Environments at the  AI + Society Initiative and the Research Centre on the Future of Cities, in collaboration with the Centre for Law, Technology and Society, the Institute for Science, Society and Policy  and the Centre for Health Law, Policy and Ethics.