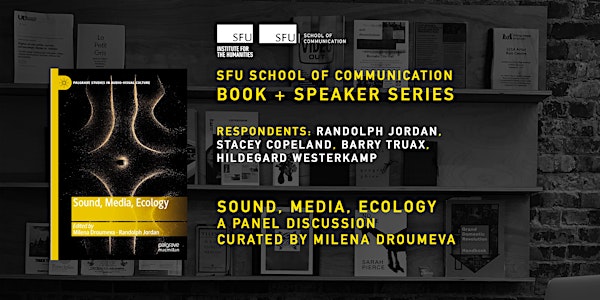 Book + Speaker Series: Sound, Media, Ecology with Milena Droumeva
Organized by the School of Communication & the Institute for the Humanities
When and where
Location
SFU Harbour Centre Room 1430 515 West Hastings Street Vancouver, BC V6B 5K3 Canada
About this event
Please join us on Saturday, November 9 to celebrate the publication of a collection co-edited by our colleague Milena Droumeva, an important contribution to Acoustic Ecology Studies, and to hear the presentations on the book's topics by Randolph Jordan (Concordia), Stacey Copeland (SFU), Barry Truax (SFU), and Hildegard Westerkamp (Independent Researcher / Community Activist).
This volume, edited by Milena Droumeva and Randolph Jordan and featuring several of our colleagues, reads the global urban environment through mediated sonic practices to put a contemporary spin on acoustic ecology's investigations at the intersection of space, cultures, technology, and the senses. Acoustic ecology is an interdisciplinary framework from the 1970s for documenting, analyzing, and transforming sonic environments: an early model of the cross-boundary thinking and multi-modal practices now common across the digital humanities. With the recent emergence of sound studies and the expansion of "ecological" thinking, there is an increased urgency to re-discover and contemporize the acoustic ecology tradition. This book serves as a comprehensive investigation into the ways in which current scholars working with sound are re-inventing acoustic ecology across diverse fields, drawing on acoustic ecology's focus on sensory experience, place, and applied research, as well as attendance to mediatized practices in sounded space. From sounding out the Anthropocene, to rethinking our auditory media landscapes, to exploring citizenship and community, this volume brings the original acoustic ecology problem set into the contemporary landscape of sound studies.
Please download the suggested readings via the following link.
"Historical Timeline for the Development of Acoustic Ecology at Simon Fraser University Through to the Foundation of the World Forum for Acoustic Ecology".
"Sound, Media, Ecology: Introduction in Three Acts" - Introduction.
Finger food, red and white wine will be served at the event.
About the Participants:
Milena Droumeva is Assistant Professor of Communication and Sound Studies at Simon Fraser University in Vancouver,Canada, specializing in mobile technologies, sound studies and multimodal ethnography. She has a background in acoustic ecology and works across the fields of urban soundscape research, sonification for public engagement, as well as gender and sound in video games. Milena has been recording and listening for over 14 years in Vancouver (and Europe) as part of her urban soundscapes and mobile media cultures research. You can find her musings on sound and other sensorial encounters at http://natuaural.com
Randolph Jordan is Assistant Professor of Film Studies at Ryerson University in Toronto, Canada. His research, teaching, and creative practice reside at the intersections of soundscape research, media studies, and critical geography. He has published widely on the ways in which the fields of acoustic ecology and film sound studies can inform each other, and is now completing a book manuscript for Oxford University Press entitled An Acoustic Ecology of the Cinema. Visit him online at: www.randolphjordan.com
Barry Truax is a composer, and a Professor Emeritus in the School of Communication (and formerly the School for the Contemporary Arts) at Simon Fraser University, Canada. He worked with the World Soundscape Project, editing its Handbook for Acoustic Ecology (1978), and producing a book on Acoustic Communication (1984/2001). As a composer, Truax's multi-channel soundscape compositions are frequently featured in concerts and festivals around the world. Since his retirement in 2015, Barry has been the Edgard Varèse Guest Professor at the Technical University in Berlin, and Guest Composer at the 2016 BEAST Festival in Birmingham. https://www.sfu.ca/~truax
Hildegard Westerkamp is a British Columbia, Canada composer, lecturer, founding member of the World Forum for Acoustic Ecology (WFAE) and co-editor of the Soundscape journal. She has lectured and conducted soundscape workshops internationally. Her compositional work focuses on the sounds of the environment and most importantly, draws attention to the act of listening itself. Her written work has been published in journals and books such as Organized Sound, Radio Rethink, Kunstforum, Musicworks, MusikTexte, Sounding Art, and more. Westerkamp was a researcher for the World Soundscape and taught acoustic communication at Simon Fraser University.
Stacey Copeland is a media producer and Joseph-Armand Bombardier (CGS) Ph.D. candidate at Simon Fraser University's School of Communication in Vancouver, Canada. She received her Master of Arts from the Ryerson York joint Communication and Culture graduate program where she studied with a focus on radio production, sound studies, media culture and gender studies. She completed her Bachelor of Arts in Radio and Television Arts from Ryerson University with a minor in English and a specialization in audio production for radio, music and film. It was during her Master's work that Copeland co-founded FemRadio, a Toronto, Canada based feminist community radio collective. Some areas of scholarly interest include feminist media, oral/aural histories, sound archives, media history, phenomenology of voice, sensory ethnography, and cultural heritage.
The SFU School of Communication's Book + Speaker Series is a space in which the School engages with recently published books by faculty and other members of the community. Our goal is to encourage fluid conversations between faculty and students and to celebrate the achievements of our scholarly community, think critically, pose questions and search for new avenues for research and activism.