Border Trouble: Migration, Research Creation, Art & Policy, a 4-day online symposium April 26-29.
About this event
***ZOOM link will be sent to registrants 1-2 hours before the event. This includes those who registered during the week or day of the event. Those that have register for an event which has already started, will receive a ZOOM link 5-10 minutes after registering***
This symposium is the culminating event of Project Finding Home, a SSHRC-funded 3-year international project exploring the complex intersection between forced migration and new place-making strategies through art and storytelling. Featuring Behrouz Boochani, Kurdish-Iranian human rights activist/journalist/writer as keynote, with collaborator Dr. Omid Tofighian on April 28, this 4-day, free online conference, co-hosted by Ryerson and London South Bank Universities presents the the following program:
Session 1 | Monday April 26 | 2 PM (EST)/7 PM (GMT)
'THIS IS WHO I AM': Research Creation, Migration and Policy (Workshop)
Moderator: Dr. Elena Marchevska (London South Bank University)
Presenters: Sebastian Aguirre (ice&fire), Aleks Dughman (Canadian Council of Refugees)
Activist and artist, Sebastian Aguirre introduces us to the work of ice&fire, an arts. organization which "explores human rights stories through performance." Actors will share verbatim testimonies from LGBTQ+ refugees on their experience in their own country and on arrival in the UK. The workshop will be followed by a discussion with VP of Canadian Council of Refugees, Aleks Dughman, exploring the intersections between their work, art and policy.
Session 2 | Tuesday April 27 | 2 PM (EST)/7 PM (GMT)
'HOME IS A SITE OF MEMORY': Migrant-Led Art Initiatives (Panel I)
Moderator: Dr. Carolyn Defrin
Presenters: d'bi.young anitafrika, Khaled Barakeh, Jorge Lozano, Dr. Aine O'Brien
In a world characterized by migration, we need a fuller analysis of how people, states, and NGOs deal with migration, flight, and heterogenous mobility. Artists Lozano, Anitafrika and Barakeh, along with Curator and Co-Founder of Counterpoints Arts, Dr. Aine O'Brien will discuss their work and what it means to create migrant-situated knowledge through creative practice.
Session 3 | Wednesday April 28 | 4:00 PM (EST)/ 9:00 PM (GMT)/ Thursday April 29 8:00 AM (NZST)
JOURNALISM, MIGRATION AND HUMAN RIGHTS: In Conversation with Journalist/Activist Behrouz Boochani & Collaborator/Translator Dr. Omid Tofighian (Keynote)
Moderator: Dr. Mehraneh Ebrahimi
Presenters: Behrouz Boochani, Dr. Omid Tofighian
When Behrouz Boochani, Kurdish-Iranian human rights activist/journalist was in the Australian-run refugee detention camp in Manus Island, Papua New Guinea he used his smartphone to secretly write over 100 articles, a book - the award-winning No Friend but the Mountains: Writing from Manus Prison - and a film "Chauka, Please Tell Us the Time." In this way was able to expose the AU government's disastrous human rights policy. He will be joined by his longtime collaborator and translator Dr. Omid Tofighian Boochani and Tofighian to discuss how migrants, displaces and exiled people can tell their own stories to influence governments and communities.
Session 4 | Thursday April 29 | 2 PM (EST)/7 PM (GMT)
MY BODY IS THE MACHINE THAT MAKES MY DREAMS: Project Finding Home Across Geographies
Presenters: Dr. Elena Marchevska (London South Bank University), Dr. Carolyn Defrin (artist/researcher UK/US), Dr. Marusya Bociurkiw (Ryerson University), Dr. Caroline Lenette (University of New South Wales), Nooreen Hussain (Ryerson University), Flora Mwashokera, Winstan Whitter
In a departure from traditional academic models, co-researchers from the SSHRC- funded Project Finding Home included academics, migrants, artists and refugees. In this panel, they come together to discuss best practices in participatory research creation and share stories of collaboration, activism and artistic dreaming.
*Note that each session runs for 1 hour and 30 minutes each day.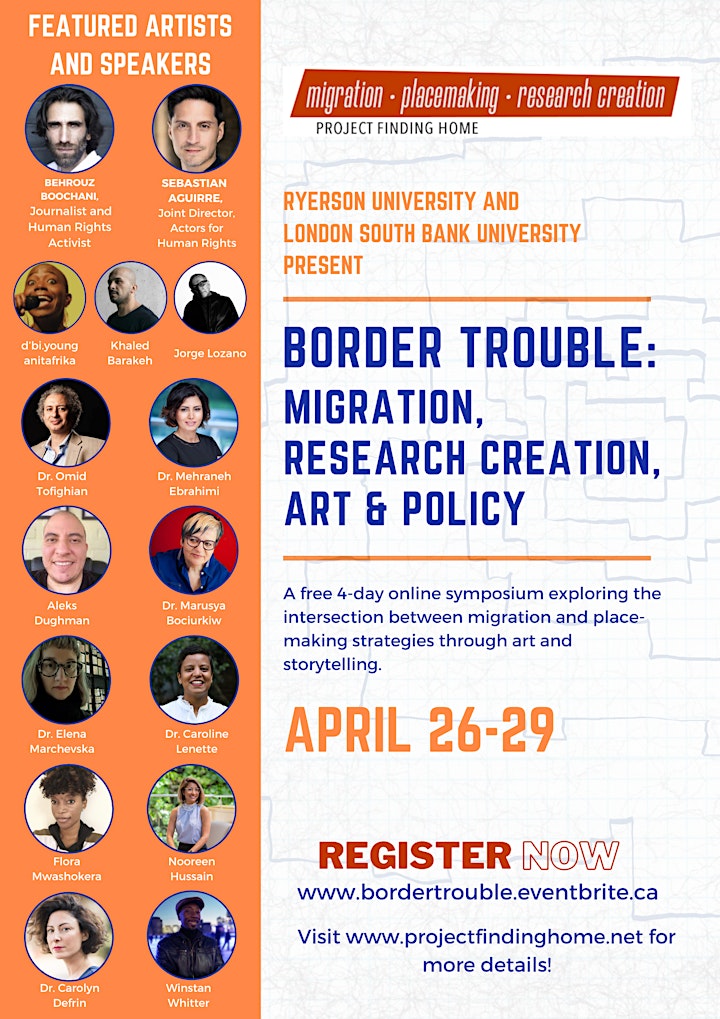 Organizer of Border Trouble: Migration, Research Creation, Art & Policy