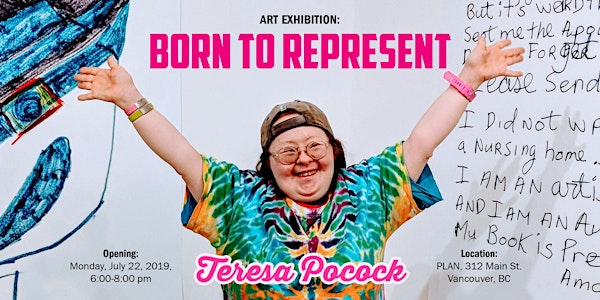 BornToRepresent
When and where
Location
312 Main Street Use the accessible Cordova St. entrance Vancouver, BC V6A 2T2 Canada
Description
I was born to represent diversity
Artist Teresa Pocock uses her art and poetry to express her unique worldview and to assert her rights to inclusion. She challenges the systemic discrimination faced by people who are different — especially those who have intellectual disabilities.
Pocock's new art exhibition, "Born to Represent", is opening on Monday, July 22, 2019. The show is being presented by Planned Lifetime Advocacy Network (PLAN) at 312 Main Street, in Vancouver's Downtown Eastside.
The exhibition features Pocock's music videos, self-talk poetry, and over twenty-five of her large-scale artworks.
"I was born with what was seen to be a disability," raps Pocock. "But no, no, no. It's just me... living in reality."
Ms. Pocock has Down syndrome and is proud of her identity. For Pocock, art and self-advocacy are powerfully intertwined. Some of her artwork addresses the discrimination and adversity she has experienced because of her genetic and intellectual differences. "I love my human rights," she says. "Don't take them away just because I have Down syndrome."
Since moving to BC in 2014, Pocock has established herself as a vital creative force. She has found her voice. "You have to realize, I am a self-advocate. You have to realize, I speak up." And she has found her purpose and meaning, "I was born to represent diversity."
"As an active, contributing citizen in Vancouver's Gastown neighborhood, Teresa's art taps into the often unspoken thoughts and pleasures of modern life," says Rebecca Pauls, Director of PLAN. "For anyone looking for a bit of everyday joy, self-expression, and connection, this exhibit is not to be missed."
ABOUT THE ARTIST:
Teresa Pocock is an outsider artist, poet, musician and self-advocate with Down syndrome. She is the author of two books. "Totally Amazing: Free to Be Me" (2018). "Pretty Amazing: How I Found Myself in the Downtown Eastside" (2016). Please visit her website for more information.
ABOUT THE HOST AND ORGANIZERS:
Planned Lifetime Advocacy Network (PLAN) is dedicated to building inclusive communities for all citizens. We are a non-profit organization founded in 1989 to help families secure the future for loved ones with disabilities. Working in collaboration, we build personal support networks, make plans to secure the future, and bring families together for mutual support, learning and community leadership. Visit PLAN.ca to read stories on how we help people with disabilities make lifelong connections and lead fulfilling lives.
The James Gang, Iconoclasts, Inc. is a creative agency founded by Franke James and Billiam James. They work with corporations, non-profit organizations, and government services, to create positive social change with a focus on environmental, health care, and social justice issues.