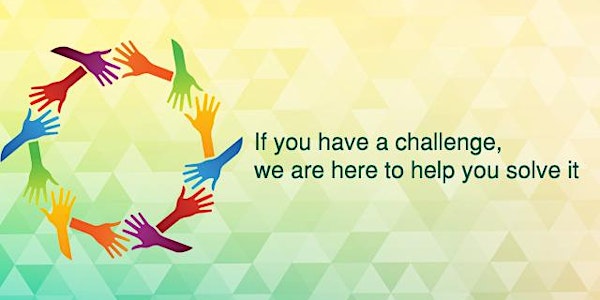 Brampton Mastermind
When and where
Location
Rose theatre 1 Theatre Ln, Brampton Brampton, Ontario L6V 0A3 Canada
Description

The Brampton Mastermind Networking group designed to inspire, motivate and educate entrepreneurs in Brampton and parts of the GTA to successfully overcome business challenges.
The main objective of the session is to connect you with other business owners and entrepreneurs, who might give suggestions to the challenges you face, that would help grow your business. This networking group is created with the primary objective to connect your peers in a forum that helps you to discuss your challenges and think of solutions which you would not have thought about.
Afterall, 'Two heads are better than one'.
The event is broken up into three sections:

6:00pm - 6:15pm

- Registration & Grab your food & coffee

6:15pm - 6:45pm

- Expert Speaker

6:45pm - 7:30pm

- Discuss your current business challenges

7:30pm - 8:00PM

- General Networking
Expert Speaker: Shaun Ghulam, CEO & Creative Director - DMINDED
Shaun Ghulam is the 2018 Small & Mighty Young Professional of the Year. He is an influential and inspirational entrepreneur with extensive experience in the digital media world. He is the CEO and Creative Director of DMINDED, located Downtown Brampton. Shaun was featured on CTV News Toronto on August 31, 2018 with Michelle Dubé's "What's Your Story" segment.
Shaun worked his way up the ladder of entrepreneurial success with sheer hard work and dedication. Despite all his struggles he persevered to fulfill his dreams and continues to help others do the same. Shaun has mentored hundreds of entrepreneurs in the GTA and volunteered his time with the City of Brampton conducting business seminars since 2014.
In 2006, Shaun founded Digital-Minded Inc. at Seneca College, also known as DMINDED, where he leads a talented team of 6. Shaun has been working alongside highly-esteemed startups, small businesses, and large corporate brands. Shaun's mission is to provide a personalized experience and collaborative approach in solving your business issues.
Shaun himself is well recognized across the region — he is the 2018 Small & Mighty Young Professional of the Year, 2018 award recipient for the Brampton Board of Trade - Top 40 Under 40, 2018 nominee for Toronto Region Board of Trade Young Professional of the Year and in 2017, he was nominated for a Brampton Board of Trade – Business Excellence Award for Mentorship to name a few.
Besides this, Shaun is a proud dad, loving husband, and a die-hard Raptors fan.
In this months Brampton Mastermind feature, Shaun Ghulam will be discussing following:
- Shaun's humble beginning dealing with failures
- Learnt lessons and key to success
Interested in becoming a Brampton Mastermind? Join us today.
Photography Disclaimer
Brampton Mastermind & BEC reserves the right to photograph its events, and from time to time we use these photos in our website, publications & social media. By registering for any of our events, you understand and acknowledge that your photograph may be taken and used, per Brampton Mastermind & BEC discretion.