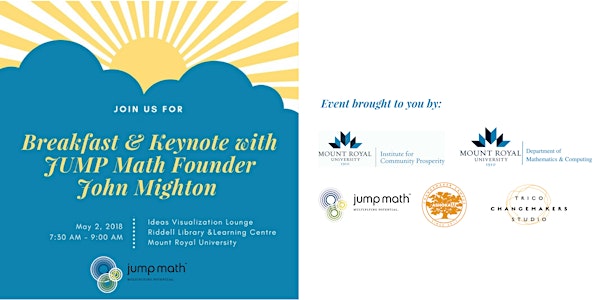 Breakfast & Keynote with JUMP Math Founder and Ashoka Fellow John Mighton
When and where
Location
Ideas Visualization Lounge, Riddell Library & Learning Centre (RLLC) 74 Mount Royal Circle SW Calgary, AB T3E 7P7 Canada
Description
Please join us for a light breakfast and a keynote talk by Ashoka Fellow John Mighton, O.C., and discover how a social enterprise like JUMP Math is transforming academic and life opportunities for children in Canada and around the world.
Wide differences in achievement among students appear to be natural in mathematics: by the time students enter high school, many will have fallen behind or developed negative attitudes about math. New research in cognitive science suggests that students' attitudes play a key role in learning: students who believe that they are not talented or that the teacher has low expectations of them are far less likely to learn than students who have positive mindsets. In this talk, John will briefly demonstrate a method of teaching called guided discovery that reduces visible academic hierarchies and helps students' brains work efficiently by motivating them to work harder and engage more deeply in lessons. In a randomized controlled trial, students who were taught by this method learned significantly more than students in the control group.
When: Wednesday, May 2, 2018, from 7:30 am - 9:00 am
Where: Ideas Visualization Lounge, (1st Floor, Riddell Library & Learning Centre, Mount Royal University
About JUMP Math
Founded by John Mighton in 2001, JUMP Math is a charity that is dedicated to realizing the potential of all children by encouraging a love of math in students and educators. We are driven by the conviction that all students can learn math and that all teachers can teach it effectively. We operate as an award-winning social enterprise that provides professional development and coaching to teachers, as well as publishes highly effective classroom resources for grades K-8. Evidence from multiple sources show that when students are taught using our instructional materials and approaches they progress at up to twice the rate of students taught using other math programs. Because math skills are closely linked to graduation rates and employment opportunities, we believe JUMP Math improves the future prospects of our students and can be a major influence in improving numeracy across Canada. Students who believe they are good at math start to believe they can be good at anything. Watch John Mighton's TEDx Talk here.
Where can I contact the organizer with any questions?
Anna Johnson, Community Engagement Strategist, Institute for Community Prosperity
Where can I park?
We recommend parking in lot (6A) which is located next to the building. For more information about parking on campus, please visit Parking & Transportation. You can access the Riddell Library and Learning Centre through the East Entrance off of Richard Way SW.
Is the venue accessible?
Yes! The Riddell Library and Learning Centre has accessible entrances – each with door activation push buttons.The main/north building entrance is at ground level, and the east entrance is directly accessible from the parking lot – with a wheelchair lift in the foyer. There is also direct interior access to the building from the underground parkade