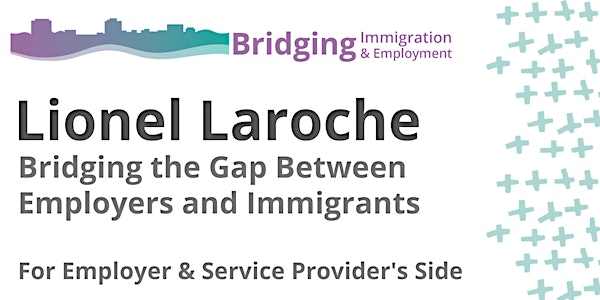 Bridging the Gap Between Employers and Immigrants – For Employers
Bridging the Gap Between Employers and Immigrants For Employers & Service Providers with Lionel Laroche
About this event
In many parts of Canada and several industries, the labour market often seems quite odd: On the one hand, many employers experience a shortage of qualified candidates; on the other hand, many educated immigrants find themselves unemployed or underemployed. In many cases, this apparent contradiction can be explained by cultural differences – the way employers select candidates leads to the elimination of qualified candidates for reasons that are often not related to their ability to perform the job they were interviewed for. This workshop examines how small and medium enterprises located in the Lethbridge area can adapt their recruitment and selection approach in order to find "diamonds in the rough", i.e. qualified candidates who present themselves in ways that do not match the expectations of the average Canadian organization.
Biography
Over the past 22 years, Lionel Laroche has provided cross-cultural training and consulting services to over 150,000 people in 21 countries. Lionel is a very dynamic, thought-provoking, entertaining and educational speaker / facilitator who presented at over 250 conferences and venues, organized by a wide range of business, government, academic, professional and non-profit organizations. He has presented to many groups of stakeholders involved in making the connection between employers and immigrants all over Canada:
Employers, either directly in the case of large organizations or through chambers of commerce / business schools
Immigrants, either by teaching them one-on-one or in groups how to find themselves jobs that make use of their qualifications or by providing training to the staff of immigrant serving agencies
Regulatory bodies
Universities and colleges
All three levels of government
Born in France, Lionel obtained his "Diplôme d'Ingénieur Polytechnicien" from the Ecole Polytechnique de Paris, France and his Ph. D. in Chemical Engineering from the California Institute of Technology in Pasadena, California, USA.