Location
The Laurel Packinghouse
1304 Ellis Street
Kelowna, BC V1Y 1Z9
Description
Event Description
Mace Vaughan is the Pollinator Conservation Program Co-Director of the renowned insect conservation organization, The Xerces Society. He co-leads a team of 24 pollinator conservation specialists, supervising the largest pollinator conservation team in the United States. He also serves as a national partner biologist and Pollinator Conservation Specialist for the US Department of Agriculture's Natural Resources Conservation Service. Through beautiful photos and engaging natural history, he will provide the latest updates on pollinator declines and conservation. He will aim his talk particularly at agricultural issues, urging a new appreciation for how pollinator-friendly plants and habitat can help farmland be more productive and sustainable, and how Xerces' new Bee Better certification can help farmers tell their pollinator conservation story. Mace will show how pollinator stories that unfold around us everyday can connect us to people and lands thousands of miles away. He lives in Portland, Oregon.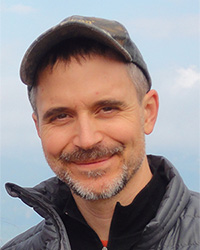 Mace Vaughan serves as The Xerces Society's Pollinator Conservation Program Co-Director and also as a national partner biologist and Pollinator Conservation Specialist with the USDA NRCS West National Technology Support Center in Portland, Oregon. Mace has led Xerces' Pollinator Conservation Program since 2003. During his tenure at the Xerces Society, the pollinator program has grown from a small pilot project on California farms to a national, multi-million dollar program, implementing pollinator conservation projects across the US. Helping to oversee a team of twenty-four pollinator conservation specialists and several consultants, Mace now helps to manage the largest pollinator conservation team in the U.S.
Mace has written numerous articles on the conservation of pollinators and beneficial insects, and is co-author of several books, including Attracting Native Pollinators: Protecting North America's Bees and Butterflies and Farming with Native Beneficial Insects. He was a lecturer on honey bee biology and beekeeping at Cornell University, from which he holds Degrees in Entomology, Natural Resource Management, and Teaching.


Who
General Public welcome, especially agricultural community.

What
Keynote talk, reception.

Why You Should Come
Learn more about pollinators, farming, interconnectedness and what others are doing around the continent.
Event Sponsor
Border Free Bees, a research project that links science and communities through art and community engagement. This workshop is one of several events during the Border Free Bees Symposium taking place October 12 – 14th 2018 in Kelowna BC.

Contact
Nancy Holmes
nancy.holmes@ubc.ca
250-807-9369