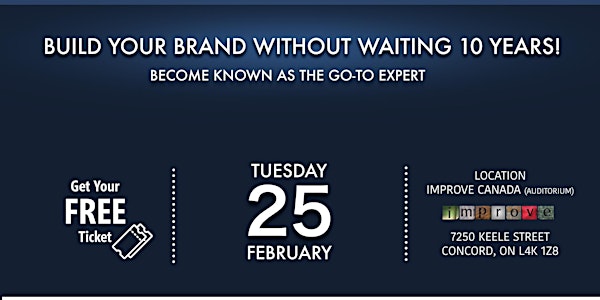 Build Your Brand Without Waiting 10 Years
Build Your Brand the FAST WAY! Become known as THE go-to expert in your field with these 4 strategies.
When and where
Location
Improve Canada (Come to the Auditorium) 7250 Keele Street Vaughan, ON L4K 1Z8 Canada
About this event
Build Your Brand Without Waiting 10 Years for People to Know You!
𝐃𝐢𝐝 𝐲𝐨𝐮 𝐤𝐧𝐨𝐰 𝐭𝐡𝐚𝐭 ...
𝐴𝑛 𝑎𝑣𝑒𝑟𝑎𝑔𝑒 𝑑𝑒𝑛𝑡𝑖𝑠𝑡 𝑖𝑛 𝐶𝑎𝑛𝑎𝑑𝑎 𝑒𝑎𝑟𝑛𝑠 $100𝑘/𝑦𝑒𝑎𝑟 𝑤ℎ𝑖𝑙𝑒 𝐷𝑟. 𝐾𝑒𝑣𝑖𝑛 𝑆𝑎𝑛𝑑𝑠, 𝑡ℎ𝑒 𝑐𝑒𝑙𝑒𝑏𝑟𝑖𝑡𝑦 𝑑𝑒𝑛𝑡𝑖𝑠𝑡, 𝑐ℎ𝑎𝑟𝑔𝑒𝑠 𝑈𝑆𝐷$100𝑘 𝑝𝑒𝑟 𝑠𝑚𝑖𝑙𝑒 𝑚𝑎𝑘𝑒𝑜𝑣𝑒𝑟.
𝐴𝑛 𝑎𝑣𝑒𝑟𝑎𝑔𝑒 𝑟𝑒𝑎𝑙𝑡𝑜𝑟 𝑖𝑛 𝐶𝑎𝑛𝑎𝑑𝑎 𝑒𝑎𝑟𝑛𝑠 𝑐𝑙𝑜𝑠𝑒 𝑡𝑜 $60𝑘/𝑦𝑒𝑎𝑟 𝑤ℎ𝑖𝑙𝑒 𝐽𝑜𝑠ℎ 𝐴𝑙𝑡𝑚𝑎𝑛, 𝑡ℎ𝑒 𝑐𝑒𝑙𝑒𝑏𝑟𝑖𝑡𝑦 𝑟𝑒𝑎𝑙𝑡𝑜𝑟, 𝑒𝑎𝑟𝑛𝑠 𝑚𝑖𝑙𝑙𝑖𝑜𝑛𝑠 𝑜𝑓 𝑑𝑜𝑙𝑙𝑎𝑟𝑠 𝑒𝑣𝑒𝑟𝑦 𝑦𝑒𝑎𝑟.
𝐴𝑛 𝑎𝑣𝑒𝑟𝑎𝑔𝑒 𝑐𝑜𝑎𝑐ℎ 𝑒𝑎𝑟𝑛𝑠 𝑎𝑟𝑜𝑢𝑛𝑑 $50𝑘/𝑦𝑒𝑎𝑟 𝑤ℎ𝑖𝑙𝑒 𝑇𝑜𝑛𝑦 𝑅𝑜𝑏𝑏𝑖𝑛𝑠 𝑒𝑎𝑟𝑛𝑠 $9𝑚 𝑎𝑡 ℎ𝑖𝑠 𝑈𝑃𝑊 𝑒𝑣𝑒𝑛𝑡.
𝐈𝐭'𝐬 𝐨𝐧𝐞 𝐭𝐡𝐢𝐧𝐠 𝐭𝐨 𝐛𝐞 𝐚𝐧 𝐞𝐱𝐩𝐞𝐫𝐭 𝐢𝐧 𝐬𝐨𝐦𝐞𝐭𝐡𝐢𝐧𝐠. 𝐈𝐭'𝐬 𝐭𝐨𝐭𝐚𝐥𝐥𝐲 𝐚𝐧𝐨𝐭𝐡𝐞𝐫 𝐭𝐡𝐢𝐧𝐠 𝐭𝐨 𝐛𝐞 𝐊𝐍𝐎𝐖𝐍 𝐚𝐬 𝐓𝐇𝐄 𝐞𝐱𝐩𝐞𝐫𝐭 𝐢𝐧 𝐭𝐡𝐞 𝐟𝐢𝐞𝐥𝐝.
Four proven strategies can help you create maximum credibility and authority in the field and get bigger better clients to build your brand FAST!
Learn how to :
1. build a world-class visual identity (video content, professional photo, website, etc.) in JUST 3 DAYS!
2. create a month's worth of CONTENT for social media in just HALF A DAY!
3. publish your (guaranteed) best-selling book in JUST 4 MONTHS!
4. share the stage with business leaders and celebrities in 2020
5. And much more!
Yes, all of these are available to YOU. And the speakers will tell you how.
Meet your Speakers: Dr. Shahab Anari (multiple best-selling author, keynote speaker, Forbes contributor, featured on the Wall Street Journal, Toronto Star and many more) and Mara Aalipour and Sina Dejnabadi (experienced business coaches from Oneshot Branding)
🔥 𝐆𝐫𝐚𝐛 𝐲𝐨𝐮𝐫 𝐅𝐑𝐄𝐄 𝐭𝐢𝐜𝐤𝐞𝐭 𝐍𝐎𝐖.
P.S. There will be lots of opportunities for networking, too!
Photography and Videography: The event will be photographed and videotaped by the organizers and the footage may be used in their marketing material later on. All participants consent to this when they decide to attend the event.
Email Communication: By purchasing the ticket here, the participant allows the organizers to communicate with them through email regarding news about this event and other events.