About this Event
COVID-19 has blindsided the world with its global scale, speed, and economic turbulence. Local food sustainability, mental health, mass unemployment, service delivery online, long-term care, and essential workers' rights are examples of the real problems recasted and exacerbated by the pandemic.
The pandemic has also revealed the fragility of the social impact world's infrastructure, capacity, and resources to respond to COVID-19 and its cascading challenges post-pandemic. This raises the question: How should the social impact world build back better in order to meet the dramatic changes communities face post-pandemic?
From mid-July until December 2020, Future of Good in partnership with Community Foundations of Canada and United Way Centraide Canada is hosting a series of digital conversations for social impact organizations to understand the dramatic changes communities are facing in the next 12 months, and to envision the ways social impact organizations should adapt in order to support a forward-looking recovery.
Our Next Digital Conversation: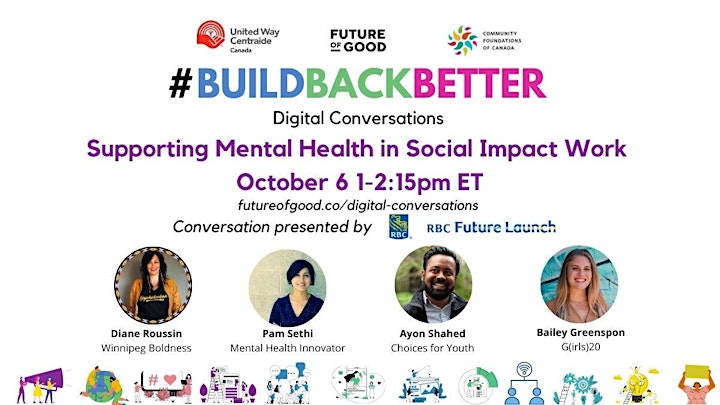 Tuesday, October 6 1-2:15pm EDT: Supporting Mental Health in Social Impact Work
The collective psychological trauma of the pandemic is unlike anything we've ever seen. Health Canada estimates that 11 million Canadians are experiencing high levels of stress, and close to 2 million are experiencing traumatic stress in the wake of COVID-19.
Youth in particular are facing increased stress levels with a record high unemployment rate of 29.4 percent in May and studies showing that Canadian students who graduate into a recession will earn 9 percent less over the course of their careers. All while being cut off from their usual sources of support.
How can the social sector be a leader in integrating mental health support to not only their beneficiaries but also their staff, supporting balance in purpose-oriented work?
Speakers:
Diane Roussin, Winnipeg Boldness
Pam Sethi, Mental Health Innovator
Ayon Shahed, Choices for Youth
Bailey Greenspon, G(irls)20
Upcoming Digital Conversation:
Tuesday, October 22 1-2:15pm EDT: Reimagining Care
Follow and join the conversation using #BuildBackBetter
We thank United Way Centraide Canada and Community Foundations of Canada for partnering with Future of Good to host this event.