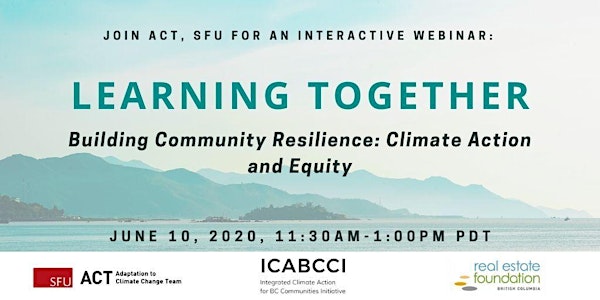 Building Community Resilience: Climate Action and Equity
Join us for an insightful discussion with Dr. Edward Cameron about climate justice and equity in a post COVID-19 world.
About this event
The COVID-19 pandemic has highlighted stark levels of social inequity and vulnerability that offer key insights for low carbon resilience planning as we consider recovery and ways to "build back better."
This ACT webinar, hosted by ACT Executive Director, Deborah Harford, and ICABCCI Lead Researcher, Dr. Alison Shaw, welcomes renowned climate change and justice expert Dr. Edward Cameron to lead a dynamic discussion about the intersection of climate action and equity in a post COVID-19 world.
Please register early to secure your spot. A Zoom link will be sent to all registrants via email.
About Dr. Edward Cameron
Dr. Cameron has spent 23 years shaping public policy and corporate responses to climate change, specializing in greenhouse gas emissions reductions, enhanced understanding of climate risk and the strengthening of societal resilience. He engages governments, businesses, civil society, academia, philanthropy and the media to catalyze bold collective action in pursuit of a low-carbon, climate-resilient and inclusive global economy. Dr. Cameron's portfolio includes work on five continents with some of the world's leading organizations and companies, including the World Bank, the World Resources Institute, the European Union and the Republic of Maldives.
About ACT
ACT brings together leading experts and decision-makers from around the world to explore the risks of climate change and to identify opportunities for sustainable adaptation. ACT's Integrated Climate Action for BC Communities Initiative (ICABCCI) supports local governments in British Columbia and beyond in adopting effective and streamlined approaches to climate actions to maximize impact and protect human and natural systems.