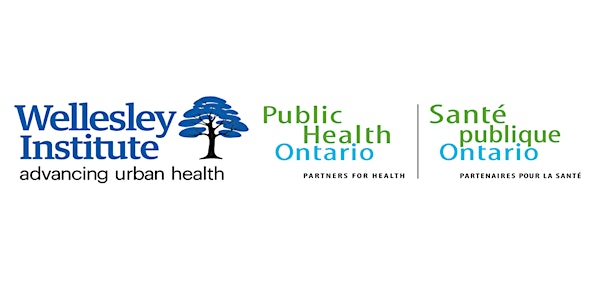 Building Equity into Everyday Practice: Using HEIA
Through experiential and small group exercises, workshop participants will explore concepts related to health equity and the OPHS.
When and where
Location
Public Health Ontario 661 University Avenue Boardroom 17-53 Toronto, ON M5G 1M1 Canada
About this event
Health Equity Impact Assessment (HEIA), developed by the Ministry of Health and Long-Term Care, is a decision support tool which practitioners can use to identify disparities among population groups and determine how to reduce them. Through a series of five steps, programs or policies are assessed to identify ways to maximize positive impacts and reduce negative impacts that potentially widen health inequities.
Wellesley Institute and Public Health Ontario are offering this workshop through the Public Health Training for Equitable Systems Change (PHESC) project. This intermediate level workshop is intended for practitioners who have some experience with HEIA, such as completing an introductory course/workshop and/or conducting at least one HEIA. Through experiential and small group exercises, workshop participants will explore concepts related to health equity and the Ontario Public Health Standards and how these concepts relate to their work. Participants will explore various paths to navigating through common barriers and challenges in conducting HEIAs. Participants will return to their workplaces with a better sense of how to conduct HEIAs and incorporate the tool into their practice.
By the end of the workshop, participants will be able to:
Understand key terms related to health equity in the Ontario Public Health Standards, including proportionate universalism, intersectionality, and racial equity
Anticipate barriers and challenges in conducting HEIAs, and plan accordingly
Apply the five steps of HEIA into daily work
Lunch will be provided.
Workshop Presenters
Rebecca Cheff is a researcher at the Wellesley Institute, where she leads and contributes to a range of health equity research projects with a focus on promoting decent and healthy employment and increasing equitable access to health care. As the co-chair of the Health Network for Non-Insured Clients, she works with advocates, service providers, researchers and policy specialists to reduce barriers to health care for Toronto residents without public health insurance. Rebecca has a Master of Public Health with a specialization in Health Promotion from the University of Toronto. She has experience in community-based and partnered research related to healthy cities and communities, LGBTQ health, and newcomer health and employment security through her work at Access Alliance, CAMH, St. Michael's Hospital, and Dalla Lana School of Public Health.
Samiya Abdi is a Senior Program Specialist- Health Equity, with Public Health Ontario who strategically fosters collaboration, connection and consensus to shift the public health system to be more equitable. Samiya's philosophy is grounded in challenging multiple and intersecting forms of oppression; understanding marginalization in knowledge production, research and practice; and building equitable relationships. She is passionate about creating safe nonjudgmental spaces that foster growth, allow for failure and transformational learning. Through her practice Samiya engages in critical thinking and reflexivity to build relationships that promote empowerment and self-determination.
Andrea Bodkin is a Senior Program Specialist- Health Promotion, with Public Health Ontario. Andrea has worked in health promotion and public health since 2003, with a focus on program design and implementation, effective collaboration, and learning design. Beginning with the Ontario Health Promotion Resource System and most recently with HC Link, she has worked with and within coalitions and partnerships to develop and deliver capacity-building services to health promoters across Ontario. Now with Public Health Ontario, Andrea brings her enthusiasm and expertise for planning in all forms, evaluation, community engagement, partnership development, effective meetings and facilitation to public health units across Ontario.