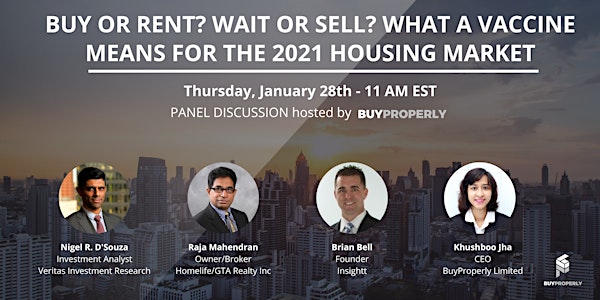 Buy or Rent? Wait or Sell? What a Vaccine Means for the 2021 Housing Market
Join us in an open conversation around about what a COVID-19 vaccine means for the 2021 Canadian housing landscape.
About this event
Should you buy now, or rather wait it out and keep renting? Condo or Detached House? Downtown or suburb? These are all questions we will be answering in our upcoming webinar!
There is no question that since it's global spread, COVID-19 has upended the economy and shifted the growth trajectory of almost everything. With the dispersion of the first few rounds of vaccinations happening, one question on all our minds is how dramatic the impact of this pandemic will be on the long-term investment interests of Canadians.
BuyProperly CEO Khushboo Jha, alongside featured guest panelists Investment Analyst Nigel D'Souza, Brokerage Owner Raja Mahendran, & Insightt.ca Founder Brian Bell, will be discussing what vaccine accessibility means for the state of buyer and seller attitudes within the Canadian housing market, real estate investing trends, and overall market confidence moving into the New Year.
Host: Khushboo, BuyProperly CEO
Khushboo Jha is the CEO of BuyProperly Limited. She has an MBA from Wharton School, Univ of Pennsylvania, and a Bachelor degree in Architecture from Indian Institute of Technology (IIT), Kharagpur. She has over 10+ years of experience at Amazon, Deutsche Bank and Accenture. She is a builder at heart and has built and launched two marketplaces within Amazon and has extensive experience leveraging AI for efficiency. She has lived and worked in US, UK, Canada, and India.
Speaker: Nigel D'Souza, CFA, Investment Analyst @Veritas Investment Research
Nigel D'Souza is an Investment Analyst for Veritas Investment Research. Nigel's coverage includes banks and life insurers. In 2019, Nigel was recognized by Refinitiv StarMine as the top stock picker among analysts covering Canadian banks and was ranked as the sixth overall stock picker among all analysts. Nigel is a CFA Charterholder and graduated with high distinction from the University of Toronto.
Speaker: Raja Mahendran, Owner/ Broker @ HomeLife/GTA Realty Inc.
Raja Mahendran is the owner of HomeLife/GTA Realty Inc. He is an avid real estate investor and developer with extensive experience. An engineer by profession, he started his real estate career over 25 years and for the last 17 years he and his partner have been running HomeLife GTA Real Estate brokerage and have about 160 sales reps working with his company. Homelife specializes in resale and pre construction. HomeLife GTA has been associates with well-known builders in Toronto for selling their condominiums and low rises. Raja Mahendran and his partner Eddie Woo, built the first south Asian Indoor mall in Toronto in 2007.
Speaker: Brian Bell, Insightt.ca Founder
Brian is the Founder of Insightt.ca. A senior executive with cross functional experience in financial services, insurance and real estate. He is a proactive strategic thinker with a proven track record of helping organizations achieve growth. Brian is a licensed real estate broker and graduated with a Masters from Queen's University. He has also completed his MBA in Finance and Public Relations from Wilfrid Laurier University.