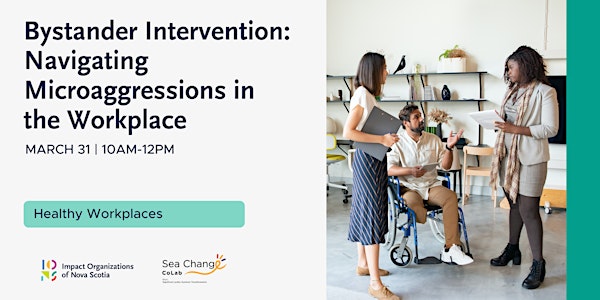 Bystander Intervention: Navigating Microaggressions in the Workplace
Join us March 31 for a session that will explore an action model that can be used to prevent or mitigate further harm in the workplace.
By Impact Organizations of Nova Scotia
When and where
Date and time
Thu, Mar 31, 2022 6:00 AM - 8:00 AM PDT
About this event
Bystander Intervention: Navigating microaggressions in the workplace
Join us virtually on March 31st, 10AM-12:00PM
Learning Stream: Healthy Workplaces
While working with others, we are bound to encounter situations where a colleague or peer is being unfairly targeted, bullied or silenced. In addition, you may find yourself in a situation where microaggressions (statements, actions or incidents of indirect, subtle or unintentional discrimination) occur. Bystander intervention is the act of recognizing a potentially harmful situation and playing an active role in prevention, harm reduction, advocation, and support of the person targeted. The 'When, How, and Where' we can intervene in a situation can be uncertain and tricky to navigate.
In this interactive and engaging workshop, we will explore the 5Ds of Bystander Intervention (Direct, Delegate, Delay, Distract, and Document), and scenario-based learning to practice how we can respond in the workplace both proactively and reactively using the 5Ds model. This 2 hour session is a combination of content sharing, interactive breakout sessions, and group discussions.
LEARNING OBJECTIVES:
Explore the range of possibilities of proactive and responsive measures based on the 5Ds of Bystander Intervention.
Reflect and explore what a personal intervention strategy can look like based on the action model and your individual context.
Create the space to discuss and share strategies that have worked in the past and participate in shared learning with the group.
Who Is this webinar For?
This webinar is open to anyone who wants to learn how to intervene and respond in situations when witnessing harm in the workplace.
Speaker: Corrie Melanson
Corrie Melanson is a learning designer and inclusion advocate based in Kjipuktuk, Halifax. She works with a diverse and nimble team to help leaders and change makers ignite transformational learning and impact by shifting from passive to active learning, from problem-focus to possibility, and by connecting personal, organizational, and systemic change.
Interested? Here's how to register:
Click "Register"
Select the ticket for the session and then select "Register"
Fill out the registration form.
You will receive a confirmation email with the meeting details once you complete your registration.
About the organizer
Impact Organizations of Nova Scotia was founded in December 2012 (as The Community Sector Council of Nova Scotia) to act as voice for the nonprofit and voluntary sector, and to help build skills and capacity to help organizations be as effective as possible in their work. 
A core part of our work is to provide capacity building opportunities to help organizations better achieve their mission through access to high quality training, resources, and skill development. The root of our capacity building efforts is the vision of the Community Impact Sector equipped to affect positive change and address systemic inequities. Our theory is that the sector will be most impactful when organizations develop the capacity and build skills to nurture healthy workplaces, cultivate innovation, and operate sustainably.