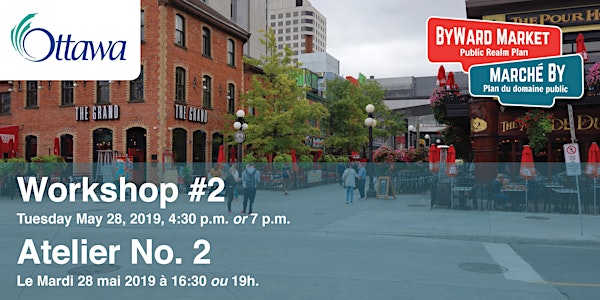 ByWard Market Public Realm Plan | Plan du domaine public du Marché By
Location
Routhier Community Centre | Centre communautaire Routhier
172 Guigues Avenue | 172, avenue Guigues
Ottawa, ON K1N 5H9
Canada
Description
Public Workshop #2: ByWard Market Public Realm Plan
There will be two identical workshop sessions and each workshop session will include a presentation and table group discussion to gather feedback on the proposed plans for ByWard Market's streets and public spaces. The plans illustrate suggestions for sidewalks, streets, trees, paving, seating, parking, space for events and special features. Please note that you only have to attend one of the two sessions. The first session will start at 4:30 p.m. and the second session will start at 7:00 p.m.
What is the ByWard Market Public Realm Plan?
The ByWard Market Public Realm Plan will establish a vision for the short, medium and long-term improvements made to the network of public spaces in the ByWard Market. The types of public spaces to be studied and enhanced include streets, sidewalks, parks, squares and plazas. The plan will also identify strategies and partnerships to enliven key public places within the ByWard Market. The plan will provide direction and designs to beautify, organize and connect the ByWard Market's public spaces to make them accessible, inclusive, safe and inviting. For more information, visit ottawa.ca/DesignByWard
Atelier public No. 2: Plan du domaine public du marché By
Il y aura deux ateliers identiques et chaque atelier comprendra une présentation et une discussion en groupe afin de recueillir vos commentaires sur les plans proposés pour les rues et les espaces publics du Marché By. Les plans illustrent des suggestions pour les trottoirs, les rues, les arbres, le pavage, les sièges, le stationnement, des espaces pour des événements et des caractéristiques spéciales. Veuillez noter que vous ne devez assister qu'à l'une des deux sessions. La première session commencera à 16h30 et la seconde à 19h00.
Qu'est-ce que le Plan du domaine public du Marché by?
Le plan du domaine public établira une vision unifiée des améliorations apportées à court, à moyen et à long terme au réseau d'espaces publics dans le Marché By. Les types d'espaces publics qui seront étudiés et améliorés comprennent les rues, les trottoirs, les parcs, les places publiques et les esplanades. Des stratégies et des partenariats visant à dynamiser les espaces publics clés du marché By seront également déterminés. Le plan fournira l'orientation et les concepts qui permettront d'embellir, d'organiser et de relier les espaces publics du Marché By pour les rendre accessibles, inclusifs, sécuritaires et invitants. Pour plus d'information, visitez ottawa.ca/conceptionmarchéby