Harvest is our favourite time of year and we're celebrating the bounty of Wine Country with a red wine extravaganza.
About this event
Join us at four of Niagara's award-winning wineries for an all-inclusive touring pass that will have you sitting back to relax and enjoy the crisp fall air, listen to the buzz of harvest activity, and sip and savour all the sensory joys that you can only find in Wine Country.
Peller Estates - Trius Winery - Wayne Gretzky Estates - Thirty Bench
Get VIP access to the best red wines in Niagara Wine Country! Our Cabernet, All The Way Touring Pass includes:
One glass of red wine at Peller Estates, Trius Winery, and Thirty Bench Wine Makers (5 oz glasses)
One glass of red wine OR one red wine-themed cocktail at Wayne Gretzky Estates
One set of 4 souvenir Cabernet, All The Way glasses (one from each winery)
A delicious food pairing for each wine or cocktail by Winery Chefs (vegan options will be available)
Music and lounge at each winery to find your rhythm as you sip and savour your drinks!
You can visit the wineries in ANY order you would like on October 5th from 11am to 5pm. We recommend starting your day or ending your day at Thirty Bench.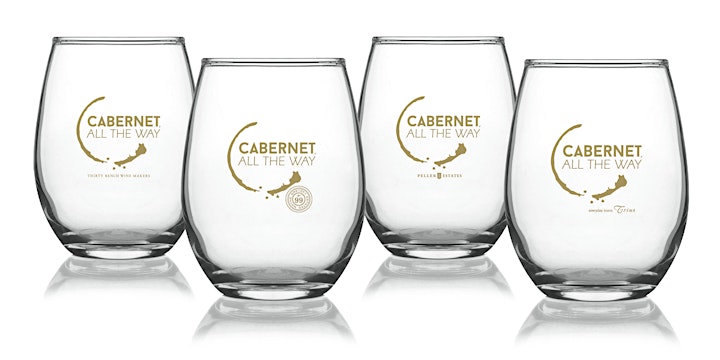 WINE AND FOOD PAIRINGS:
Peller Estates
Cabernet Braised Beef Short Rib, Baby Bok Choy, Icewine Caramelized Onions, Blackberry Rosemary Jam
Private Reserve Cabernet Franc 2016
Trius Winery
Mushroom soup, truffled feta cheese
Trius Cabernet Sauvignon 2017
Wayne Gretzky Estates
Ice Cream Sandwich
Whisky Oak Aged Red 2018 -OR- The 99 Cocktail
Thirty Bench
Smoked Duck Breast, Apple and Sage Stuffing, Peppered Squash, Cranberry Glaze
Winemaker's Blend Red 2017
TICKETS:
$49 each, plus taxes and fees
$44 for Wine Club members - Call to purchase at 1.888.510.5537
$39 for designated drivers - no wine included, guests with DD passes will receive a non-alcoholic beverage at each winery
Event Details:
This is a 19+ event and will proceed rain or shine. Photo ID will be required. Touring passes can be redeemed once at each winery.
The event will be recorded for visual and audio broadcast – by entering the grounds you consent to have your image and voice used in these recordings.
Participating Wineries:
Peller Estates Winery & Restaurant - 290 John Street East, Niagara-on-the-Lake
Trius Winery & Restaurant - 1249 Niagara Stone Road, Niagara-on-the-Lake
Wayne Gretzky Estates -1219 Niagara Stone Road, Niagara-on-the-Lake (1 minute walk next door to/from Trius)
Thirty Bench - 4281 Mountainview Road, Beamsville (approx 35 minutes from Niagara-on-the-Lake... a must-visit boutique winery with stunning vineyard views and award-winning wines, including the best Cabernet Franc in the world!)