Contest Website: http://cpc.cpsc.ucalgary.ca/contests/ccpc/2022/
About this event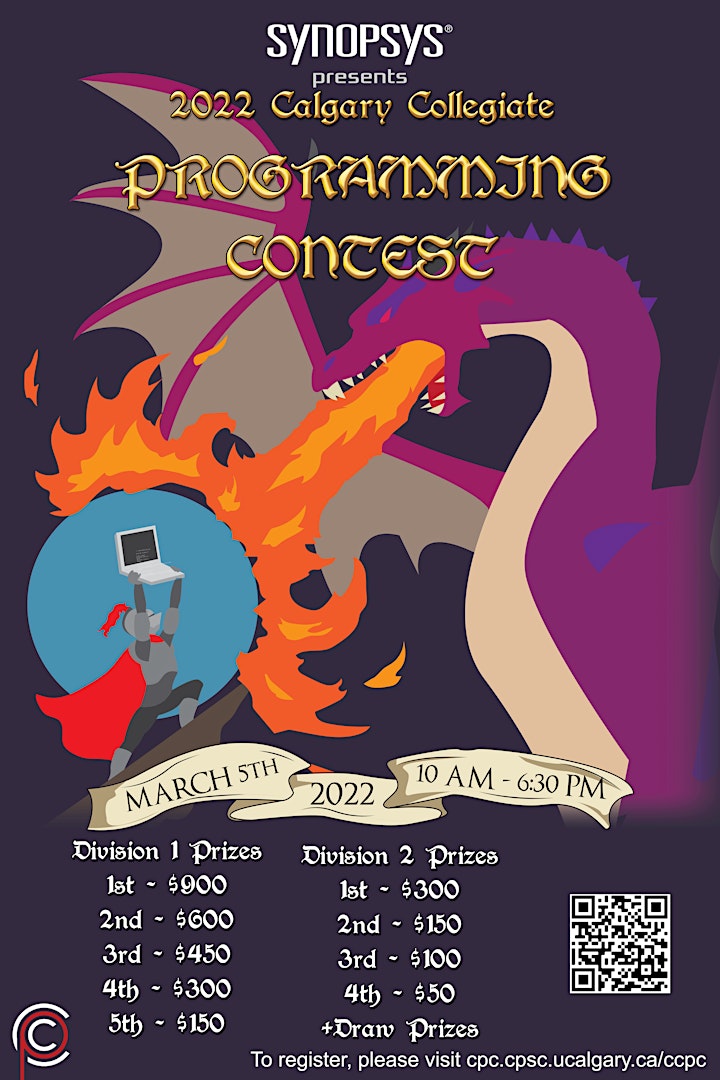 About
The Calgary Collegiate Programming Contest (CCPC) provides post-secondary students in Calgary with the opportunity to excel in an ACM ICPC-style programming competition. Students test their aptitude and knowledge against a set of programming puzzles requiring problem-solving, programming, math, and teamwork skills. Teams are ranked according to the number of problems solved within five hours. The CCPC is sponsored by Synopsys and provides a platform for the next generation of computing professionals to pursue excellence. Kattis has graciously sponsored the judging platform.
Contest Details & Rules
Teams of up to three students enrolled in an western Canadian educational institution, meeting the criteria linked to in the "Eligibility" section above may compete for prizes. Teams not meeting these requirements may participate in the open division. The contest is free of charge for entry. The contest will be held online.
Don't have a group of people to participate in the event with but you're looking to meet some new people? No worries! We'll be working to team folks up after you sign up on this Google sheet form here
The contest itself is a collection of 6-10 problems to be solved using C, C++, Java, Python, or Haskell. Team rankings are decided first by number of problems solved, and second by time taken to solve.
During the contest, the following rules are in effect:
No collaboration is allowed with anyone outside of your team members when working on/discussing the contest problems.
All contestants can work on their personal computer. Any team member can submit a solution to Kattis.
Resource access is restricted to standard library and language documentation, the contest website, and the I/O cheat-sheet (linked below)
External libraries are not allowed. For example, the C++ header #include is allowed since it is a part of the language's standard library. However, headers in an external C++ library such as Boost are not allowed.
Aside from the two main points above, all other references materials on the internet are not allowed
Use of electronic devices other than the computer is strictly prohibited
Teams are ranked according to which has solved the most problems, with ties broken by time taken to solve
Coding reference material:
Each team is allowed one coding reference "document"
There is no maximum page limit for the coding reference document
Document submission options:
Each option will count as one document (i.e. you can choose either i or ii)
Teams creating their own document (option i) cannot share their document with other teams or people within the contest
i. Create your own:
Each team can make their own document and email it to cpc.uofc@gmail.com. You can also host the files on a private GitHub and share it with the club executives. Make sure all reference code is committed by the date in the point below.
ii. Reference a public, pre-existing code library:
You are allowed to reference an already available public GitHub code library (i.e. created by official coaches from a university), with proof of permission. The link to the repository must be emailed to cpc.uofc@gmail.com, along with proof of permission from the repository owner.
Your document must be emailed to at least cpc.uofc@gmail.com or have the repository shared with us at least 12 hours before the contest start date (by 10:30PM, March 4th).
Important note: For GitHub reference material, code committed only at least 12 hours before the contest can be used.
The main contest will start at 12:00PM MDT on Saturday, March 4th. The practice contest starts one hour before the main contest and will last 45 minutes. Participation in the practice is optional but recommended for new competitors.
Any disrespectful behavior towards the Competitive Programming Club, our sponsors or participants can result in disqualification from the event.
Permissible Internet resources:
Contest page
C reference
C++ reference 1
C++ reference 2
Java 6 reference
Python reference
All other internet resources are prohibited.
If your code is found to be plagiarized or taken from an internet resource other than the permissible ones listed above, you will be immediately disqualified and banned from future competitions.
Overview of Schedule
10:15AM - 10:45AM:
Opening Contest presentation by Synopsys and the CPC. The speech will be delivered by Tyler Sims; the Director of Software Engineering . The CPC will then go over general contest rules and procedures.
10:45AM - 11:30AM
Practice contest to help familiarize competitors with contest system
11:30AM - 12:00PM:
12:00PM - 5:00PM:
Official contest start (12:00pm)
Scoreboard will be frozen for final hour (4:00pm) so winners are not known until later presentation
5:00PM - 5:20PM:
5:20PM - 6:20PM:
Presentation of problem statistics (number of attempts, successes, etc.)
Small Bag Prizes will be drawn
Announcement of Div 1 & 2 winners and presentation of prizes
Question Period With Tyler
Eligibility
Anyone is welcome to compete.
In order to be eligible for prizes, you must be:
Enrolled in a post-secondary institution/high school in Alberta or British Columbia as an undergraduate/full time graduate student
In a team of up to three members or compete solo
Participating in the same division as everyone else on your team
Meet all of the requirements specified in the 2017 ICPC eligibility checklist
(Extra requirement for Division 2) Students who have not taken a data structures course (nor currently taking), e.g. CPSC 319/331
Please make sure to add your shipping address info as we will be shipping any prizes to the winners