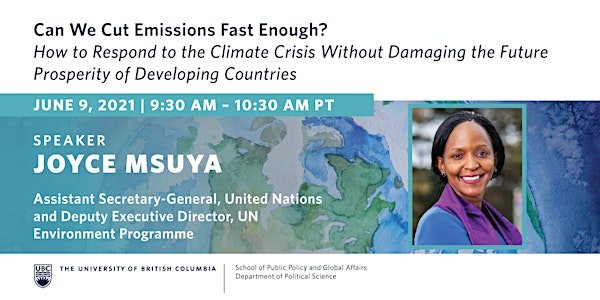 Can We Cut Emissions Fast Enough? With Joyce Msuya, UNEP
How to respond to the climate crisis without damaging the future prosperity of developing countries
About this event
The climate crisis is one of the most challenging problems humanity has ever faced. Join us for a public talk by Joyce Msuya, Assistant Secretary-General of the United Nations and Deputy Executive Director of the UN Environment Programme (UNEP), as she discusses how rich nations can respond to the planetary crisis in a way that avoids harming the development opportunities available to low and middle income countries in the Global South. Joyce will also highlight some of the transformational solutions available to both high and low-income countries as they seek to limit a global temperature rise to well below 2C in line with the Paris Agreement.
Everyone is welcome to join the webinar. Registration is required. The Zoom webinar details will be emailed ahead of the event.
Keynote Speaker: Joyce Msuya, Assistant Secretary-General, United Nations and Deputy Executive Director, UN Environment Programme
Welcome Remarks: Allison Macfarlane, Director, School of Public Policy and Global Affairs
Moderator: Samira Hosseina, Student, Master of Public Policy and Global Affairs
Closing Remarks: Melanie Mpanju, Student, Political Science, UBC 
Biography: Joyce Msuya is the Deputy Executive Director of UNEP. She was appointed by UN Secretary-General António Guterres in August 2018. Between November 2018 and June 2019, Ms. Msuya served as interim Executive Director, overseeing UNEP's portfolio in 33 countries and administering nine Multilateral Environmental Agreements on critical environment issues.
Ms. Msuya has more than 20 years of extensive experience in international development strategy, operations, knowledge management and partnerships, across Africa, Asia and Latin America. Prior to joining UNEP, Ms. Msuya served as Adviser to the World Bank's Vice President, East Asia and Pacific Region in Washington, D.C.
From 2014 to 2017, Ms. Msuya served as the inaugural World Bank Special Representative and Head of the World Bank Group Office in the Republic of Korea, where she established and developed office operations and deepened the Bank's partnership with the country.
She has held a series of high-level positions at the World Bank Group, including the World Bank Institute's East Asia and Pacific Regional Coordinator in China, Principal Strategy Officer at the International Finance Corporation (Manufacturing, Agribusiness and Services) and Special Adviser to Lord Nicholas Stern, World Bank Senior Vice President and Chief Economist. Ms. Msuya has worked across the public and private sectors within the World Bank Group.
A microbiologist from Tanzania, Ms. Msuya began her career at the World Bank as a public health specialist for Africa in 1998. Ms. Msuya holds a Master of Science in Microbiology and Immunology from the University of Ottawa, Canada, and a Bachelor of Science in Biochemistry and Immunology from the University of Strathclyde, Scotland. She has an Executive General Management Certificate from Harvard Business School (USA) and a Public Health Certificate from Johns Hopkins University (USA).
Ms. Msuya was named University of Strathclyde's Alumna of the Year for 2019. She is married with two children.
Disclaimer: Please note that by using this service, your information will be stored on the Eventbrite server, which is located outside Canada. If you do not wish to use this service, please email lindsay.marsh@ubc.ca directly to register. Thank you.
Hosted by:


Organizer of Can We Cut Emissions Fast Enough? With Joyce Msuya, UNEP
As an interdisciplinary hub for innovation and learning, the UBC School of Public Policy and Global Affairs (SPPGA) draws on the expertise of UBC institutes, research centres and faculties, and invites collaboration with local and global communities.
Researchers, policy makers and aspiring change makers come here to explore local and global issues, find policy solutions and change the world for the better.
The School of Public Policy and Global Affairs was founded in 2017 at The University of British Columbia Vancouver campus and is located on the traditional, ancestral, and unceded territory of the xʷməθkʷəy̓əm (Musqueam) people.