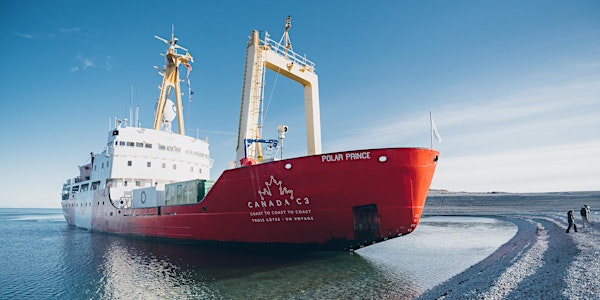 Canada C3 documentary & social at the Frontline Club
UK première of an epic, once-in-a-lifetime journey with breathtaking footage and inspiring stories of Canada's past, present and future.
By Students on Ice Foundation
Date and time
Thu, Nov 7, 2019 6:30 PM - 8:30 PM GMT
Location
The Frontline Club 13 Norfolk Place London W2 1QJ United Kingdom
About this event
18.30 complimentary drinks and canapés in the Clubroom
19.00 documentary
19.45 Q&A with Expedition Leader and C3 staff
20.00 complimentary drinks and canapés in the Clubroom
20.30 table booked for those that wish to purchase dinner
In 2017, Canada C3 was a Canada 150 Signature Project that connected Canadians from coast to coast to coast. At the centre of this project was a 150-day ship-based expedition that left Toronto, Ontario on June 1st, 2017 and travelled over 25,000 kilometres along Canada's coastline, the longest of any country in the world, arriving in Victoria, British Columbia on October 28th, 2017.
Four central themes shaped the Canada C3 Expedition, including: Reconciliation, the Environment, Diversity and Inclusion, and Youth Engagement. Through these lenses, this epic journey served to better connect and deepen understanding amongst diverse Canadians as they shared their stories of community, place, and culture.
Involved in the expedition was a diverse group of over 450 participants, thousands of citizens living in the over 75 coastal (mostly Indigenous) communities, and millions who participated virtually through various social media and digital learning platforms.
The Canada C3 expedition enabled Canadians to gain a personal, first-hand experience of the coastal geography, the traumatic history of First Nations, Inuit, and Métis in Canada. The expedition also showcased promising civic engagement practices that can contribute towards a healthier, more sustainable, and just next 150 years for all Canadians.
The Canada C3 - Coast to Coast to Coast 46 minute documentary weaves together Canada's past, present and future through breathtaking drone footage and inspiring stories. A once in a lifetime journey that needs to be shared with everyone for a better understanding of Canada and it's future.
About the organizer

The Students on Ice (SOI) Foundation is an internationally acclaimed leader in polar education and youth engagement. Since 2000, SOI expeditions and outreach initiatives have educated youth from around the world about the importance of the Polar Regions, and inspired and supported youth-led initiatives that contribute to global sustainability. 
Visit studentsonice.com
La Fondation Students on Ice (SOI) est un chef de file mondialement reconnu dans l'éducation sur les régions polaires et la mobilisation des jeunes. Depuis l'an 2000, les expéditions et programmes de vulgarisation de SOI ont sensibilisé les jeunes à l'importance des régions polaires, et ont fait naître et aboutir des initiatives menées par des jeunes qui contribuent à préserver la planète.