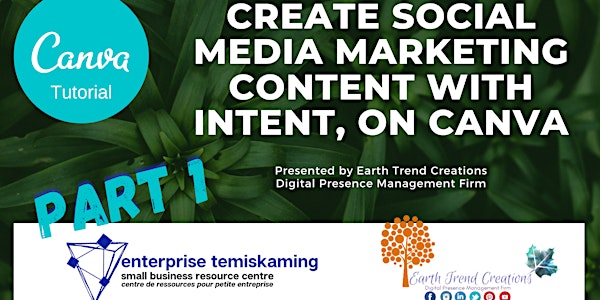 Canva Tutorial - Part 1
This workshop will provide you, the participant, with an introduction to Canva (an online graphic design tool/program).
About this event
Enterprise Temiskaming is happy to be able to provide business owners with this introductory workshop to get to know Canva; a graphic design program that can be an invaluable tool in social media marketing for business owners and entrepreneurs. This first part will offer and introduction to this online program/platform used to create content. We will cover the following:
• "What is Canva?"
• How to create an account and login.
• Paid subscription vs free (advantages of paid)
• Where to start.
• Introduction to different options within Canva.
• How to use Canva to create content.
• Creating a regular post.
• Creating an animated post.
• Changing the size of your post for each platform.
• Saving your posts for future reference.
• Scheduling Option
• The importance of creating your brand kit
• Review
• Q&A
We look forward to seeing you there!