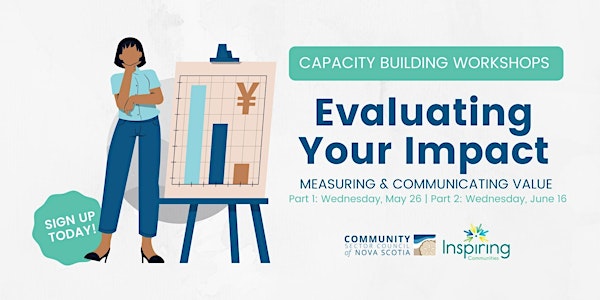 Capacity Building Workshops: Evaluating Your Impact
Join us May 26 and June 16 for a 2-Part series on evaluating your impact. Learn how to measure and communicate your organization's value!
By Impact Organizations of Nova Scotia
About this event
What do we mean by impact? How do we decide what impacts we want to measure? Who needs to be involved in the decision process about what we measure and how? Who needs to know about our impact and how will they learn about it? These are the kinds of questions this session will explore. In our time together we will focus on:
The role of evaluation and the evaluator
Understanding what we (and our stakeholders) mean by impact
How do we know if we are having an impact
Evaluation planning
Collecting and making sense of information
Sharing what we have learned
The COVID-19 pandemic and other complexities have changed the context and needs for the social sector.
Back in March and April 2021, the Community Sector Council of Nova Scotia (CSCNS) partnered with Inspiring Communities (IC) to launch a survey to gather data and information on the needs of the sector. Together, we recognized the need to offer capacity building opportunities based on the current and future context. We also understand that community connection and support are essential, especially during times of crisis; we aim to facilitate such connection while offering meaningful, shared learning opportunities and resources that align with evolving sector needs. 
The results from the survey helped identify the sector needs and inform the five capacity building sessions. We invite you to join us for capacity building workshops that will further skill, knowledge and build opportunities for people and organizations to create positive impact across Nova Scotia. 
The 2-part capacity building sessions will have an emphasis on building peer-to-peer relationships (cohort learning) and collaborative learning while offering tools and resources to help you implement the learning within your organization or community. 
***CSC, IC and Wayside will be recording this session for use on Wayside and CSCNS Skillspass. Please note only the facilitation will be recorded and we will not record the discussion and breakout session. Please turn off your mic and video if you don't want to be recorded.****
Facilitators:
Karen Pyra and Cari Patterson are both Credentialed Evaluators who together have over 60 years of experience in conducting evaluations of many different sizes for a wide range of local, regional, national and international organizations and they love working together!
Cari Patterson
Director of Research and Evaluation, Inspiring Communities
Cari helps Inspiring Communities reflect on its work and think about what the team is learning, so the team can intentionally adapt its approach and offer its best to communities. Her educational background is in community psychology, which focuses on working with communities for social change. Her passion for community development began with her love of community and her deep respect for the journeys communities share in their efforts to make their worlds healthy and strong. The heart of her formal training began in Nova Scotia, and has continued through a few decades of community development work in Saskatchewan, Ontario, Alberta, and Nova Scotia. Cari has a strong respect for the diverse perspectives people bring to the table, and an ability to validate and work with differing interests and needs. In her free time she loves gardening, hiking, paddleboarding, and eating good dinners with friends.
Karen Pyra
Senior Evaluator, Inspiring Communities
Karen works in the fields of evaluation, facilitation, program and policy development, project management and strategic planning. Her educational background is in health promotion and public administration. Her evaluation experience ranges from small evaluations with a single non-profit agency to very large international multi-organization evaluations, and she is experienced in evaluation framework design, data collection, qualitative and quantitative data analysis, and presenting results in different ways to meet the needs of diverse audiences. She is passionate about making evaluation meaningful for both those engaged in the process and those using the results.
About the organizer
Impact Organizations of Nova Scotia was founded in December 2012 (as The Community Sector Council of Nova Scotia) to act as voice for the nonprofit and voluntary sector, and to help build skills and capacity to help organizations be as effective as possible in their work. 
A core part of our work is to provide capacity building opportunities to help organizations better achieve their mission through access to high quality training, resources, and skill development. The root of our capacity building efforts is the vision of the Community Impact Sector equipped to affect positive change and address systemic inequities. Our theory is that the sector will be most impactful when organizations develop the capacity and build skills to nurture healthy workplaces, cultivate innovation, and operate sustainably.