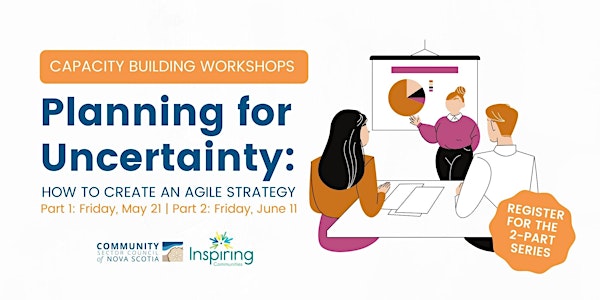 Capacity Building Workshops: Planning For Uncertainty
Join us May 21st and June 11th for a 2-Part Series on How to create an agile strategy.
By Impact Organizations of Nova Scotia
About this event
Strategic planning is an essential roadmap in operating a For-Impact (nonprofit) organization, but with COVID-19 and so many other uncertainties it's hard to plan for the future. Many people and organizations have also said that while strategic planning is essential, the current 3-5 year model is not sustainable. This 2-part session on adaptive/agile strategic planning will help organizations create a roadmap and support organizations to deal with complex and changing conditions focusing on:
Strategic framework and planning in chaotic or crisis times
Pivoting, leveraging flexibility, and adaptability
Looking at it from a budgeting standpoint - how do you accept things are going to change in your budget
Adaptive planning and an approach that allows for community feedback loop
How has COVID-19 impacted planning and what might stick?
The COVID-19 pandemic and other complexities have changed the context and needs for the social sector.
Back in March and April 2021, the Community Sector Council of Nova Scotia (CSCNS) partnered with Inspiring Communities (IC) to launch a survey to gather data and information on the needs of the sector. Together, we recognized the need to offer capacity building opportunities based on the current and future context. We also understand that community connection and support are essential, especially during times of crisis; we aim to facilitate such connection while offering meaningful, shared learning opportunities and resources that align with evolving sector needs. 
The results from the survey helped identify the sector needs and inform the five capacity building sessions. We invite you to join us for capacity building workshops that will further skill, knowledge and build opportunities for people and organizations to create positive impact across Nova Scotia. 
The 2-part capacity building sessions will have an emphasis on building peer-to-peer relationships (cohort learning) and collaborative learning while offering tools and resources to help you implement the learning within your organization or community. 
***CSC, IC and Wayside will be recording this session for use on Wayside and CSCNS Skillspass. Please note only the facilitation will be recorded and we will not record the discussion and breakout session. Please turn off your mic and video if you don't want to be recorded.****
Facilitator:
Ian MacDonald
Driven by a relentless curiosity and a love of learning, Ian MacDonald is a leadership expert who delivers high-energy presentations and training sessions that challenge individuals and teams to change the way they see the world, gain clarity around what matters most, and create the environment for success in business and in life.
As an organizational designer and project lead, Ian has spent the last seven years guiding teams through transformation as they work to improve, innovate, and grow their impact on the communities they serve. His collaborative approach to learning involves embracing individuals as they are, creating the space for authenticity to emerge, and providing teams with the tools and support they need to define the problem, cut through the noise, and continually adapt to the challenges that arise.
Ian believes the disruption of the past year has provided us with a unique opportunity to change the way we work and rebuild business to be better - for our people, for our families, and for our world. In the place of strategic operations and tactics to eliminate constraints, he now advocates for a compassionate approach to healing what's holding us back. In all of his work, Ian's goal is to share the lessons he has learned, learn the lessons he is taught, and create the space for deep, meaningful connection and collaboration.
About the organizer
Impact Organizations of Nova Scotia was founded in December 2012 (as The Community Sector Council of Nova Scotia) to act as voice for the nonprofit and voluntary sector, and to help build skills and capacity to help organizations be as effective as possible in their work. 
A core part of our work is to provide capacity building opportunities to help organizations better achieve their mission through access to high quality training, resources, and skill development. The root of our capacity building efforts is the vision of the Community Impact Sector equipped to affect positive change and address systemic inequities. Our theory is that the sector will be most impactful when organizations develop the capacity and build skills to nurture healthy workplaces, cultivate innovation, and operate sustainably.