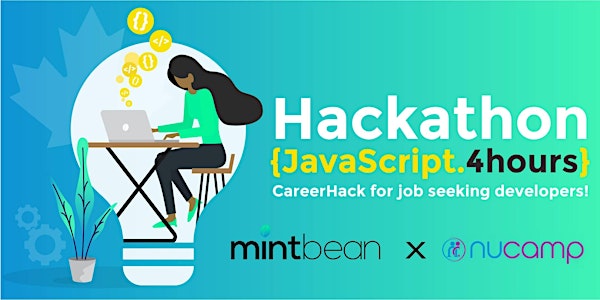 CareerHack: JavaScript Hackathons for Job Seeking Developers (4 hours)
Write Code. Get Noticed. Get Hired.
About this event
Mintbean CareerHack is a regularly recurring series of online hackathons that acts as a safe space for learning. They are designed to be as beginner-friendly and low-pressure. The goal of our hackathons is to learn to build new types of projects every single week and offer ways to visibly showcase your skill sets and projects to potential employers.
Who Can Attend?
Front-End Developers
Full Stack Developers
Self Learners
Job Seekers
Anyone who wants to code!
Event Details
Team Size: 1 (SOLO)
Date: Every Monday & Wednesday
Time: 12:00 PM - 4:30PM EST/EDT (Toronto, Canada)
Where: Discord Community
*Discord Invite will be emailed the DAY BEFORE your hackathon date
Challenge Topics
Monday, June 15, 2020
Theme: The Magic Of Mapbox
Difficulty Level: Easy
Building map-based applications is confusing and disorienting -- until you discover Mapbox. Mapbox lets you build Google Maps style maps, absolutely for free on the basic pricing tier.
Wednesday, June 17, 2020
Theme: A Rouble By Any Other Name
Difficulty Level: Easy-Medium
Building exchange rate calculators means integrating into FOREX markets and displaying that information in near-realtime. Let's build a beautiful exchange rate calculator.
Event Schedule
(Every Mondays + Wednesdays)
Time Zone: EST/EDT Toronto, Canada
12:00 - 12:15 PM EST - Problem-set announcement + Q&A
12:15 - 3:50 PM EST - Hacking begins
3:50 - 4:00 PM EST - Hacking ends & How to submit project
4:00 - 4:30 PM EST - Review each other's projects + score
4:30 PM -5:00 PM EST - Social Media Workshop*
*Learn how to promote your projects on LinkedIn to market your skills and abilities to potential employers.
Competing is fun and encouraged, but optional. Learning is the main reward here. Even finishing your project is not necessarily important! A successful CareerHack is one where you've learnt something new.
About Us
Mintbean is a software developer talent incubator. We work to accelerate the careers, skillsets, and professional networks of software developers globally.
Follow us on our social media: LinkedIn . Facebook. Twitter . Website
We're very excited for you to participate!