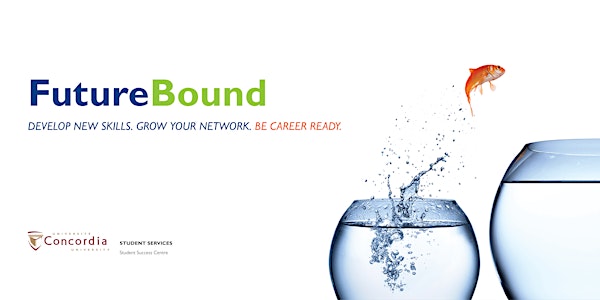 CASE COMPETITION (CIADI & FUTUREBOUND)
IN-PERSON WORKSHOP
By Student Success Centre, FutureBound Program
Date and time
Fri, Feb 3, 2023 9:00 AM - 5:00 PM EST
Location
Student Success Centre Workshop Room Hall Building, 7th floor Sir George Williams Campus Montreal, QC H3G 1M8 Canada
About this event
CASE COMPETITION with CIADI
CAREER DEVELOPMENT
Offered in collaboration with Concordia Institute of Aerospace Design and Innovation
IN PERSON: Henry F. Hall Building, SSC Workshop Room – H771
Workshop Description:
In this one-day intensive, you will work with an interdisciplinary team to crack a case which will challenge your technical, relational, and communication skills. By analyzing the scenario, framing the problem, and preparing a collective response, you will practice your collaboration and communication skills and have an opportunity to get feedback on your performance in a low-stakes, playful setting.
Facilitator: Megan Webster, B.A.H., B.Ed, M.A., and Ph.D
Megan is an instructional coach, a teacher educator, and professional development (PD) consultant. In partnership with scholars at Vanderbilt University and the University of Washington, Megan supported two major urban school districts in the U.S. who aimed to radically improve instruction in their districts. Megan now coaches consultants, principals, and educational leaders in school boards across Quebec. In recognition for her work as a teacher, she was awarded the Prime Minister's Teaching Award. Megan brings great energy, humor, passion, and rigor to the work before her; participants leave sessions with her empowered and ready for action.
Judges:
Martin Faucher, Bell Flight
Dr. Ebenezer Ekow Essel, Concordia University
Martin Faucher is a Manager in Mechanical Systems and Design in Commercial development program at Bell Flight. He brings in a wealth of professional experience, since he's worked in companies like TRU Simulation and CAE. He has a bachelor of mechanical engineering from Polytechnique and Masters in project management from Universite du Quebec a Montreal.
Dr. Essel completed his B.Sc. in Mechanical Engineering from the Kwame Nkrumah University of Science and Technology, Ghana. After this, he obtained his M.Sc. and Ph.D. in the area of Experimental Fluid Mechanics from the University of Manitoba. While doing his Ph.D., Dr. Essel completed a 3-year certification program in higher education teaching.
Soon after his Ph.D., he held a PDF in the Civil Engineering Department, University of Manitoba and performed research on river-ice hydraulic engineering. He won the prestigious NSERC PDF 2019 and did his tenure at the University of Windsor with research focused on experimental and numerical investigations of ground vehicle aerodynamics, wall-mounted bluff bodies and jets. Afterwards, he became a Research Associate at the Turbulence Research Laboratory at the University of Toronto and worked on bioassay analysis using machine learning techniques and turbulence control.
He joined the Department of Mechanical, Industrial and Aerospace Engineering at Concordia University in August 2022.
Dr. Essel's research focuses on turbulent flows using a balanced approach of experiments, computational fluid dynamics (CFD) and theoretical modelling. His applied research focuses on developing effective flow control strategies for improving energy efficiency in homes and industries, reducing flow-induced vibrations of structures and buildings, and improving the aerodynamic performance of low-Reynolds number aircraft and ground vehicles.
Please note that FutureBound events and workshops are open to all currently registered undergraduate students  and recent alumni.
For more FutureBound events and activities, go to: www.concordia.ca/futurebound
About the organizer
Prepared for Today, Ready for Tomorrow
The Student Success Centre is a welcoming support network of resources and opportunities to engage and empower you as a student to realize your individual, academic and long-term goals – bridging academic experience with personal and professional development.
FutureBound
Develop new skills. Grow your network. Be career ready.
The Student Success Centre's new skill development program for undergraduate students.