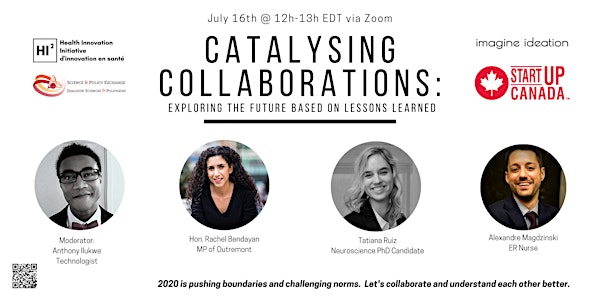 Catalysing Collaborations: Exploring the future based on lessons learned
Catalysing Collaborations: Exploring the future based on lessons learned
About this event
2020 is pushing boundaries and challenging norms. Research, healthcare, industry, government, and communities have been put centre stage in response to these changes. As we focus on the survival of people and businesses alike, it has become clear that we need to work together and understand each other better. 
But how?
We invite you to join us from across Canada, and encourage the participation of students, researchers, academics, healthcare professionals, policy makers, entrepreneurs, journalists, public servants, artists, media, government, industry, and diverse communities to join us for a panel discussion based on your questions about these important issues.
Our panelists, who represent diverse collaborations, will share their experiences and respond to your questions, ideas, and concerns submitted in advance.
 A key outcome of this event will be a report that synthesizes information discussed and presents key policy recommendations to facilitate collaboration.
We know it can be intimidating to walk into a room (or sign onto a call) and be faced with jargon, acronyms, and concepts that are unfamiliar….
This outcome-driven event is an opportunity to break down silos, build bridges, and take action towards improved cross-sectoral collaboration. 
Timeline
1) Pre-event: 
- When you register, you can submit your ideas and questions for the panel, as well as share more info about yourself and opt-in to be matched with participants outside your sector, and be connected with them by email ahead of the event
2) During the event:
- 5 minutes introductions
- 25 minutes presentations from the panel
- 25 minutes Q&A
- 5 minutes community announcements
- Throughout: engagement with participants and organizers through the chat platform
3) Post-event: 
- You can opt-in to be matched by email with participants from within and/or beyond your sector, and to share your ideas to be included in our policy report and summary
Panelists
- Rachel Bendayan: MP for Outremont, Parliamentary Secretary to the Minister of Small Business, Export Promotion and International Trade, Lawyer
- Tatiana Ruiz: Neuroscience PhD Candidate, Teaching Assistant for "NEUR-710: Lab-to-World Entrepreneurship" at McGill, Member of the international ventilator Code Vie Challenge, Co-founder of AltPAP Innovation
- Alexandre Magdzinski: ER Nurse, Vice President of the Quebec Nurses' Association, McGill Lecturer on Nursing Innovation and Policy, Co-founder of Projet ICI (Initiative Communautaire Infirmière)
Moderator
Anthony Ilukwe: Technologist, Co-founder of Lixr.ai, Vice President of the Canadian International Council Toronto
Partners
Health Innovation Initiative - www.healthinnovationiniative.com
Science & Policy Exchange - www.sp-exchange.ca
Imagine Ideation - www.imagineideation.com
Startup Canada - www.startupcan.ca
SPACE IS LIMITED!
Please be sure to register here. You will then be sent a Zoom link and password.
Questions? Accessibility requests? Feel free to reach out here or to email us at healthinnovationinitiative@gmail.com
We are walking the talk when it comes to catalysing collaborations and taking action during these unprecedented times. Together, we are building networks and fostering your collaborations.