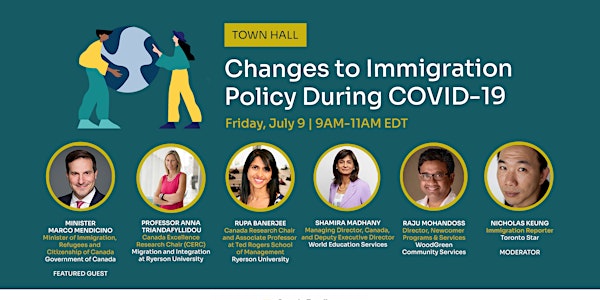 Changes to Immigration Policy During COVID-19
What have we learned from immigration policy innovations this past year — and what should come next?
About this event
Friday, July 9th | 9:00-11:00 AM EDT
As Professor Anna Triandafyllidou writes in a co-authored piece for FPR, the COVID-19 pandemic has shaken a lot of the certainties about migration for major destination countries like Canada. But it has also led to important policy innovations. It led to unprecedented flexibility in terms of blanket work permit extensions and renewals, and it introduced new pathways to transition from temporary to permanent residency for different categories of migrant workers, front-line workers and international students. At the same time, Canada also increased its targets for permanent migration in a double effort to spur economic recovery — through an increased labour force as well as by boosting its competitive edge as a global magnet for talented migrants. How do we measure the success or failure of these policy changes? What have we learned from innovations to immigration policy in the past year? And, what comes next?
Join First Policy Response, CERC Migration and Integration at Ryerson University, and the Toronto Star for this timely discussion on Friday, July 9th from 9 a.m. - 11 a.m. EDT.
We will be joined by:
Featured Guest: Minister Marco Mendicino, Minister of Immigration, Refugees and Citizenship of Canada
Panellists:
The event will begin with a feature interview with Minister Mendicino, followed by a moderated panel discussion.
There will also be an opportunity for breakout sessions and community gathering with academics, policy specialists, practitioners, and officials from municipal, provincial and federal governments.