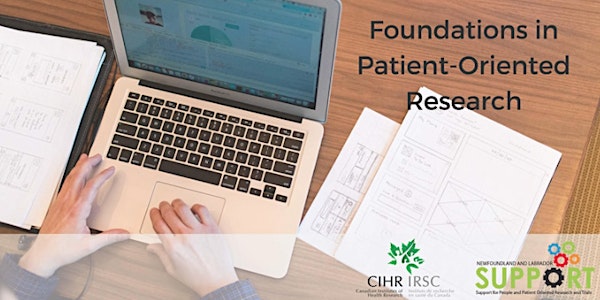 CIHR's Foundations in Patient-Oriented Research Training
NL SUPPORT is excited to virtually offer CIHR's Foundations in Patient-Oriented Research Training.
About this event
Registration for this event is now closed. If you would like your name to be added to our waitlist for future training sessions, please reach out to juliaburt@mun.ca
The Newfoundland and Labrador SUPPORT Unit is excited to offer CIHR SPOR's Foundations in Patient-Oriented Research. This online workshop will provide you with an interactive opportunity to build the necessary skills to participate in patient-oriented research.
The curriculum is delivered with the principles of co-learning, which means that patients, researchers, decision makers, and policy makers come together for a richer learning experience for all.
This five session program includes the following modules:
Module 1 (Three sessions): Patient-Oriented Research - These sessions explain the difference between patient-oriented research and 'traditional' health research.
Module 2 (One session): Health Research in Canada Fundamentals - This session explores how research is designed, funded, and conducted.
Module 3 (One session): Building Partnerships and Consolidating Teams - This session provides information to help teams come together and start working.
If you want to participate in the full training program, please be sure to add all five tickets to your order. Otherwise, feel free to choose the tickets for the specific sessions that you would like to attend. We highly recommend attending all three modules. Participants who attend all three modules will receive a certificate of completion.