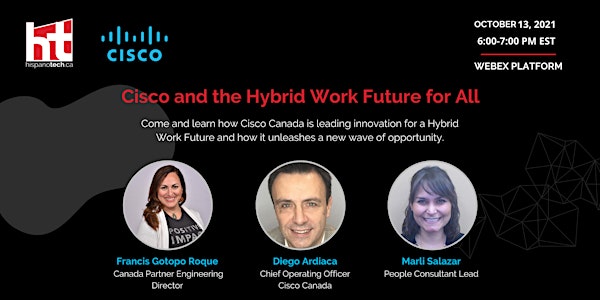 Cisco and the Hybrid Work Future for All
Come and Learn how Cisco Canada is leading innovation for a Hybrid Work Future and how it unleashes a new wave of opportunity.
About this event
Join us in our next webinar and learn more about Cisco Canada Strategy, Impact and opportunities in Hybrid work.
Speakers:

Francis Judith Gotopo Roque graduated as Electronic Engineer and currently is Partner Architects Engineer Director (SE) at Cisco Systems, now with more than 15 years of experience working with Partners, Service Providers and Small to Mid-size customers in industries from finance to manufacturing in Canada and LATAM. Francis has been at Cisco Systems for over 12 years, holding different roles from Systems Engineer to now as Partner Engineering Director. Beyond being an SE, Francis is an advocate for Women/Girls in Tech empowerment, Co-founded and currently Co-Direct a cultural Non-Profit "Sentir Venezuela" and she treasures the family time with her husband and daughters (2 girls).

Marli Salazar is the Regional Lead People Consultant for LatAm & Canada for the Country Engagement team at Cisco. She is responsible to Partner with country and regional leaders and the People & Communities eco systems to design and drive engagement, collaboration, and country innovation. She was born and raised in Venezuela, but she has a vast international experience as she has lived study and worked in different countries. Before Coming to Canada she worked in Cisco Peru as a Regional HR Business Partner for the Central American, Andean and Caribbean region and prior to that as a HR Generalist at Cisco Poland.
Marli has an educational background in languages, translation & Interpretation and international relations which makes her very passionate about change management and innovative initiatives that address today's business challenges.

Diego Ardiaca is the Chief Operating Officer of Cisco Canada. He joined Cisco in 2006 in London, UK, where he lived until 2018. Before moving into Canada, he held different Strategy and Planning roles and worked for different regions, including Central and Eastern Europe, Central Asia and The Americas. Diego was born and bred in Buenos Aires, Argentina.