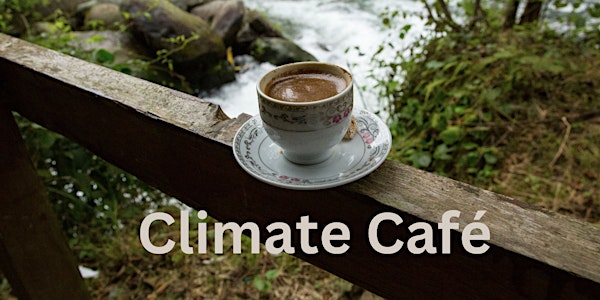 Multiple dates
Climate Café
Join us to connect with likeminded people to learn from and support each other as we navigate the complex climatic and environmental crisis.
Date and time
Wed, Jan 18, 2023 6:00 AM - Wed, Mar 29, 2023 7:00 AM PST
About this event
What are Climate Cafés? Climate Cafés are safe and supportive spaces where people come together to discuss topics related to climate change. With this series of Climate Cafés, we want to keep the conversation going and create a supportive community of likeminded people who are interested in discussing the psychological impacts and dimensions of climate change.
For 10 weeks, once a week we will tackle a different question, such as why should we care about climate change? Isn't it too late to do anything about it? Can a single person like me make any difference? How do people cope with eco-anxiety? How can we become more meaningfully involved with climate change and keep our mental health?
Here is a schedule of the topics of discussion:
January 18th – Why should I care about climate change?
January 25th – How does climate change make you feel?
February 1st – What can I do about my climate emotions?
February 8th – Changing your climate change mindset: from helplessness to active hope
February 15th – What is climate action? Ways to meaningfully contribute to the resolution of the climate crisis
March 1st – The dragons of inaction: barriers to action and ways to overcome them
March 8th – Fighting climate change from the inside out
March 15th – Feeling good about climate change: why positive emotions are key to the climate crisis resolution
March 22nd – Reconnecting with nature to save the planet
March 29th – A pledge to Mother Earth: committing to meaningful engagement and climate action
This Climate Café series is relevant for people of all ages, walks of life, and levels of education. We also encourage participation from high school and university students, as well as teachers and parents.
What will I gain from participating in this Climate Café? By participating in this Climate Café, you will engage in discussion with like-minded people on climate change, learn how other people navigate this complex phenomenon, which may help you gain clarity about the extent to which climate change is important to you and the role that you can play towards its resolution. We hope that you will leave the discussion with a renewed motivation to engage with climate change and knowing that you are not alone in the fight against global warming.
How is the Climate Café structured? The Climate Cafés are online conversations facilitated by Dr. Stefania Maggi from Carleton University (Ottawa, Canada) and other experts in the psychology of climate change. Following a brief introduction to the topic of conversation, the facilitators will help participants engage in meaningful and respectful conversation. Depending on the number of participants, you may be assigned to breakout rooms for a more intimate interaction. The more you actively participate in the discussion, the more beneficial the Climate Cafés will be for everyone.